Baby Agnes Doe continues to inspire respect for life
Annual march to her shrine slated for Sunday
It was a cold winter night on a Thursday in February 1987 when a dog found the body of a baby abandoned near the backyard of a home near Kerbaugh Road in Bellwood. The child had been stuffed into a plastic bag and was missing a notable portion of its body.
The baby had been disposed into the woods, police theorized. An autopsy determined that the dead body was that of a white female infant.
It was the kind of thing that rocks a small community.
"I was reading a magazine about finding a baby that had been abandoned and then days later I heard about it reading the (Tyrone Daily) Herald," said Knights of Columbus member Pete Kreckel, who became a driving force in claiming the baby's body.
The St. Gregory Council of the Knights of Columbus in Tyrone, which serves St. Matthew's Parish, asked for permission to give the infant a proper burial several months later.  The Council had chosen the name Agnes for the baby after St. Agnes, who among other things is the patron saint of young girls.
"
It was a really big story in the news at the time. I remember how sad it was that this little baby was dead and that her parents just dumped her somewhere."
— Nick Lovrich, B-A Health and Phys. Ed teacher
Baby Agnes Doe was given a funeral and laid to rest in the Oak Grove Cemetery in Tyrone on June 20th, 1987.
"The remains were never identified so in June of 1987 we had a Mass for her. The priest that said the Mass at her funeral was Father Joseph Strittmatter, and he said 'If all of us can accomplish in our life time what Baby Agnes did in two days of her life time …'" recalled Kreckel. "I carried her coffin up the steps of St. Matthews Church.  We were like Joseph of Arimathea."
Bellwood-Antis health and physical education teacher Nick Lovrich, who was in eighth grade at the time, was an altar server at the funeral.
"The Knights of Columbus from St. Matthew's kind of adopted her and took care of the funeral service and burial since there was no known relatives," recalled Mr. Lovrich.  "It was a really big story in the news at the time.  I remember how sad it was that this little baby was dead and that her parents just dumped her somewhere."
The Knights found a spot for her in the cemetery where an error had been when measuring another spot, making it just perfect for her. The spot now has developed into "The Home of the Holy Innocent," which is an area for Baby Agnes and other unwanted babies to have a proper grave.
The site was renovated by Jonathan Hampton in 2006 as part of an Eagle Scout project and it now includes a memorial statue and benches.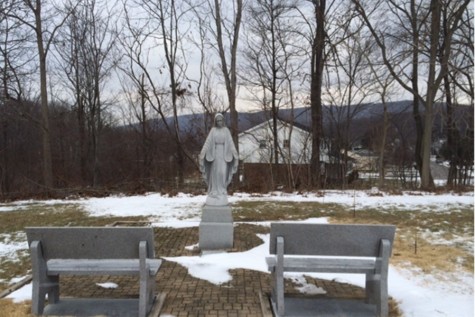 The St Gregory Council dedicated the Respect Life Meditation area in 1991 to Baby Agnes. They also used Agnes as the focal point for the yearly Respect Life March,  a 1.25 miles walk from St. Matthew's Church to Baby Agnes' gravestone, which publicly expresses the respect for life in all stages.
The march will take place once again this Sunday beginning at noon, and many Bellwood-Antis students from St. Joseph's Parish are attending.
You can read more about the annual walk here.
Mr. Kerry Naylor, an English teacher and BluePrint advisor at B-A, was a part of the first march along with Mr. Lovrich.
"There were many adults from St. Matthew's and the community there, but what I remember most is how many young people were there," he said.  "It felt like you were really a part of something, and we were.  We were all united in saying we need to have respect for human life and dignity."
Twenty years after Baby Agnes's discovery, the Pennsylvania State Police renewed the efforts to identify Baby Agnes and had it publicized in the local media in hopes that someone would come forward, but the identity of Baby Agnes is still unknown.
Lovrich said his experience with Baby Agnes still affect him today.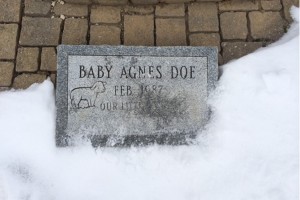 "Being a parent now I do not know how anyone could do that to their child," he said. "Your job as a parent is to love, care and nurture your child, not leave it for dead somewhere.  It is very special that the K of C still honors her very short life.  It should make people realize how lucky they are to have their life and make their own choices.  Baby Agnes did not have a chance to make her own choices, someone else did it for her."
Leave a Comment