Featured Alumni: Josh Rimmey takes advantage of his opportunities
2009 B-A grad is making a name for himself in Hollywood
"Genius is nothing more nor less than childhood recaptured at will."- Charles Baudelaire
When you first meet Josh Rimmey (B-A class of 2009), it's like you've known him forever. Outgoing and personable, he's easy to get along with.
His big ideas and life goals may leave you questioning his sanity, but who's to say these ideas aren't possible?
Josh knows how to take crazy ideas and make them a reality using the resources he has been given, and that includes opportunities that were given to him in high school as far back as his tenth grade year at Bellwood-Antis, and he's quick to heap praise on those who have helped him.
But that's the story of Josh's life: give him an opportunity – even to sing the praises of others – and he's going to take it.
"I found opportunities (At Bellwood-Antis) that I didn't understand at the time gave me the tools to do what I wanted to do," Josh said.
Now, you can find Josh writing, producing, directing, or editing commercials, music videos, and other branded content in Los Angeles, where he originally went for an internship after graduating from Ithaca College in New York with a degree in film making. He works at Philymack Productions, the company that manages Demi Lovato and Nick Jonas.
Toward the end of 2014, Josh had already worked with Lovato on multiple projects when a dream project came his way.
"We did some sponsorships for Demi and it was amazing. I got to see a lot of the United States. We went back to LA for a month, and they were like 'hey, we want you guys to go to Europe with Demi for her tour and shoot a music video,'" Josh said. There, they shot her music video for Nightingale, which came out just before Christmas.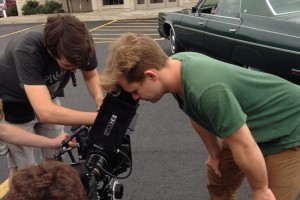 While on tour, Josh called upon his good friend and fellow Bellwood-Antis graduate Nathan Larimer, who, like Josh, has always had an interest in film and had graduated with a degree in film and video production from Penn State.
"We did two to three weeks of the tour before we decided that we needed someone else to come on tour and help us so I called… Uh, Nathan," he joked. "He was the fifth person I called.
"No, Nathan was honestly the first person I called," he reassured. "I told him that we were going to do it at a low rate and weird conditions but it was an awesome opportunity."
By weird conditions, Josh was referring to two months of bus life where you live out of your suit case, which may not have been  ideal, the opportunity trumped all inconveniences.
"As we were working with Demi, we started to develop a relationship with her. They really wanted a group of people her age to grow close to her because it really just makes her working conditions easier if she's got people that she can be friends with," Josh said.
What Josh does isn't something just anyone and everyone gets into. He has worked hard to get where he is and still has to work hard every day to keep up with his projects and assignments.
"
It's not a normal job where you show up, you know what you're there to do, and you have to do it every day.
— Josh Rimmey
"It's not a normal job where you show up, you know what you're there to do, and you have to do it every day," said Josh, "It's more of a 'you're-filling-eight-shoes-today-you-don't-know-what-pairs-you're-wearing-and-if-you-screw-it-up-your-chance-is-over' kind of job."
High school is where most of his opportunities arose to allow him to really decide if this is what he wanted to do. "Nathan and I did a film camp together between our junior and senior year at Penn State where we got to go for a week to experience the college life and shoot a few films together," Josh said.
While in 10th grade, Josh worked on a video assignment in Ms. Kim Trostle's English class. It was a Julius Caesar video that he had worked on with Nathan Larimer and Nathaniel Gray. When the assignment was completed, Josh said that he got a major migraine. He said it wiped him out for a good day or so.
The Julius Caesar movie trailer project from Ms. Trostle's English class in 2007.
"I got a migraine while editing and I thought I would never be able to do movies again," he said.
He said that participation in Belwood-Antis's ultra-competitive speech league was one of the things that helped him acquire the skills he needed and he gave retired advisor Mr. Richard Bower all of the credit, saying he gave him not only school lessons but life lessons.
Ironically, film making wasn't Josh's first love.
"I always wanted to do acting, and I still do sometimes. I didn't understand that you could make a career out of doing it. I thought it was maybe just something you were born into or maybe happened to you one day," Josh said. "I actually had no idea even when I was in like tenth grade or junior year that you could even major in film. I saw it in a catalog for Penn State and was like 'WHAT? THAT'S CRAZY!' But once I understood that, I was like, yes, that's definitely what I want to do, because then I can make my own opportunities of putting myself in front of the camera," he said.
Again, in 12th grade, Josh was given an assignment in Mr. Kerry Naylor's CHS argument and debate class in which he and another student would need to make a satirical video about the town of Bellwood. This video is called Bellwood a Taste Of and can be found on YouTube with about 8,000 views.
Bellwood: A Tatste Of was a video project Josh did as part of a twelfth grade English class, and it's become a local sensation.
"What made Josh special was, he was an idea guy. He had big ideas and he was able to see them through. Sometimes that took an all-nighter but he made it happen. Even with his Bellwood video, he was working on that up until the minute it was due, but it paid off. It's not just a video, but it's a big part of Bellwood now," Mr. Naylor said.
Almost everyone in Bellwood has seen that video at least once and each and every person that lives in Bellwood can relate to it.
The philosophy that was starting to bud with that project stays with Josh today: "it's just "story telling."
He says, "My job, along with Nathan, pretty much, we tell fairy tales for a living."
Nathan agrees with this. He calls it, "playing adult pretend."
It may sound like a dream and he may have never thought all this would happen so quickly, but because of his hard work, it did. Josh wasn't afraid to dream big, but he also never turned away an opportunity to do what he loves, no matter what the level.
He has met and worked amazing people like Lovato and Nick Jonas. He has gotten to see parts of the world that most people from Bellwood will never see.
"He's a dreamer," says Mr. Naylor.
By the end of his career, Josh wants to be "back here, retired, and fat," he said, "…only, with my own production company." He says he even has aspirations to build a huge Bellwood sign, just like the Hollywood sign. He wants it placed up on the mountain by the highway exit, and he wants his house to be on top of this mountain.
"I'll have a ski lift that gets me up and down. At the bottom of the hill, Nathan will be living in a little hut I built for him," said Josh.
There's that dreaming we've been talking about.
Josh's theory to success is to "show up. That's it. No matter what. If you're doing school work, work-work, or a sport that takes up a lot of your time, find a way to always be doing what you want to be doing."
He says it's always best to find a way to take advantage of the opportunities in front of you and use them to get you where you eventually want to go.