Read Across America Theme: Dress like a book character end the week
Lots of students dress up but Thor and Hulk win top prize
Friday March 6th was the end of Read Across America. To end the week with a bang, it was Dress like Your Favorite Character Day.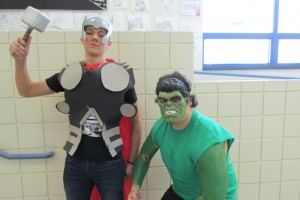 Since it's the final day of Read Across America week it was the student body's last chance to get involved, and many students did. English teachers choose the best costumes and again the prizes were awarded in $25, $15, and $10 gift cards for Barnes & Nobles.
Dallas Huff and Ryan Boslough, who dressed as Thor and the Hulk, respectively, shared first prize.  Anna Wolfe was second with her costume of Hermine from Harry Potter, and Dionna Pearce was third with her costume of Alice from Alice in Wonderland.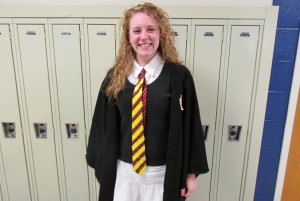 Last year's winner were Miranda Lowery and Alyssa Long in first place as Hamlet and Ophelia.
"We always do this theme day to end the week because it's something to look forward to and it caps everything off nicely," said English department chair Mr. Naylor.  "We had a lot of nice entrants this year, lots of variety."