Another Bellwood Success: Casey Gray.
As long as he was at Bellwood-Antis, Casey Gray was a star, excelling in academics and sports. This basketball, baseball, and football-playing chorus man was a huge success, including appearances in several of the school plays.
Easy to think everything would always go his way.
"
It was hard going from a success in high school and getting to a point in my life where I was really struggling."
— Casey Gray
But not quite.
After graduating from B-A in June of 2014, he was attending Slippery Rock University of Pennsylvania in September to get his degree to become a physical therapist, but this didn't last very long.
"I realized that I was doing something that I didn't want to do. I'm lucky I realized it before it was too late," he said, "I wouldn't consider it a failure, but it was hard going from a success in high school and getting to a point in my life where I was really struggling, but it gives me a chance to do what I really want to."
What Casey really wants is to pursue a career in music.
The buzz over the last week in the Bellwood community is about Casey and his new song released on iTunes, called "Hope You're Doing Fine." It's about a break up. He had several songs on his YouTube channel, but this was his first venture into commercial music making.
Hope You're Doing Fine by Casey Gray
"I found a company online that distributes music to online stores. It's a long process of getting the rights for your music and getting it copyrighted, but that's what I needed to do," said Casey.
Through all the publicity, Casey said that people have only had good things to say about his release of his own music.
"I've gotten so much support from friends and family and Bellwood, especially," he said. "It's pretty humbling to get so much support from my hometown. Bellwood's awesome."
Casey looks to retired music director Mr. Richard Bower as a major influence on him. Through chorus, Bower helped Casey in getting comfortable with performing in front of people. His brother, Nathaniel Gray (B-A Class of 2009), has also been a huge influence on him.
"Nathaniel's pretty successful with his music," he said, "and I've always looked up to him as a role model."
Caqn't Say No by Casey and Nathaneil Gray
Mr. Partner, who coached Casey in baseball and taught him in eleventh grade English, said that Casey is one of the most athletically, musically, and academically talented students that he has ever had the opportunity and pleasure of working with.
"Most people have two paths to choose from. Casey, on the other hand, has a plethora of paths to choose from," Partner said, "The sky is the limit. He can choose any path. He has the it factor in all areas and in all aspects."
Casey's "next step" is to make more music and take any opportunity that presents itself to him. He is hoping that the new song on iTunes is going to be a "doorway" into a future with the music he loves. His passion for music is obvious to those around him.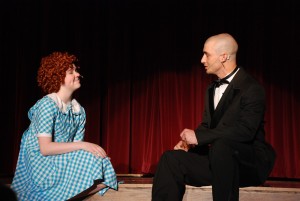 "I know how passionate he is about music and I know that he can do anything he puts his mind to!" said Casey's girlfriend Paige Padula, a senior at B-A.
"I don't know where it'll lead, but I hope it's a step in the right direction," he said.
Casey's story is an inspiration in the least. From a boy in high school that thrives with success, to a man who's lost but fights to find his way. Even though things didn't always go as planned for Casey, he never gave up. He's still putting himself out there to find his niche and figure himself out as an artist and performer.
"Don't be afraid to chase your dreams no matter what kind of ridicule you might get." – Casey Gray.