YouTube Kids is just an advertising tool
YouTube Kids came out in February as a phenomenal development for kids to enjoy videos of their favorite shows and be safe from inappropriate content. For parents it dismisses some of the responsibility of having to constantly hover their children while online.
However, children are being duped, bamboozled, and swindled into watching Google's slick combination of advertisement and programming. YouTube Kids does not openly advertise, but places products such as Lego and Barbie in the videos.
In fact, last month several child advocacy groups asked the Federal Trade Commission to investigate the popular app.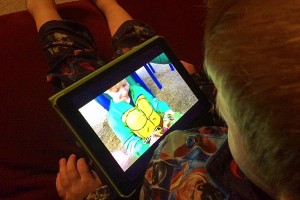 High school English teacher Mr. Naylor, whose own children frequent the app, says, "The problem is, kids love the iPad so you look for safe sites for them to use aside from educational sites. So you think you've found one and you realize what's going on and feel like Ralphie in Christmas Story- a crumby commercial?!"
One example of the promotional type videos commonly found on YouTube Kids is a video of Lego Batman and Robin, where someone is playing with the Legos and making up a story to make it a little "show." It is clear to anyone but the children watching that the "show" is just displaying all the features of the play sets. It's a shady way to advertise toys.
High school Spanish teacher Señora Smith says, "I don't like programming that is actually just advertising for children's products. For example the Care Bear TV shows are surrounded by commercials promoting the Care Bear stuffed animals."
"YouTube Kids exploits children's development vulnerabilities by delivering a steady stream of advertising and programming," said Josh Golin, association director of the Campaign for a Commercial-Free Childhood.
Leave a Comment