Constitution Day recognized at B-A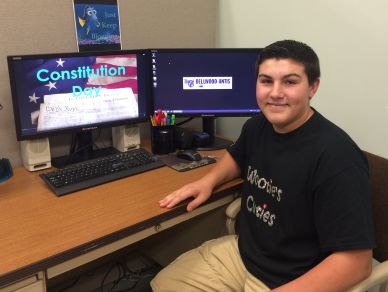 On Thursday, September 17 Constitution Day was celebrated as an American federal observance that recognizes the adoption of the United States Constitution and those who have become U.S. citizens, and Bellwood celebrated!
In fact, our students even got involved. B-A's own Kermit Foor created a video about Constitution Day that was shared with the middle and high school students on the morning announcements program.
I was lucky enough to meet up with Kermit and interviewed him about this project.
 Q: Why did you make make a video?
A: To honor our Constitution.
Q: What are your thoughts about Constitution Day?
A: Without the Constitution, we wouldn't be where we are as a country.
Q: Who is in your video?
A: High school students and staff.
Q: What is your video about?
A: 10 facts about the Constitution.
As you can see, you won't want to miss Kermit's video, which will be posted in the very near future to the B-A BluePrint! So be sure to check back soon!
Leave a Comment