Featured Alumni: Rachel Albright
2008 grad is helping the poor in Swaziland in Africa through the Peace Corps.
It is undeniable that life will throw surprises at you. For the average person, dropping everything in the prime of their life and going to a poverty stricken country to try improve the conditions all while being nearly 8,000 miles away from friends and family would be unthinkable.
However that is not the case for 25 year old Rachel Albright.  When Rachel was a freshman in college she went to the Dominican Republic. It was her first time visiting a third world-country, and while she was there she was enlightened.
"I was struck by the poverty and devastation as well as the immense disconnection between the rural areas and the tourist areas that most people only see," Rachel said.
After this eye opening event Rachel knew she needed to help, and joining an international aid organization would be the way she did it.  Shortly after this Rachel began looking for opportunities.  She came across the Peace Corps. It appealed to her above other international aid organizations because the experience in the Peace Corps is different than any other international aid.
" Peace Corps volunteers actually live in the communities. We learn to live, dress, eat, and spend our time like the people in our communities do," she said.
Steve Driehaus, the country director of the Peace Corps of Swaziland further touched on what the Peace Corps offers.
" Peace Corps offers a great opportunity for Americans to 'give' while learning about another culture and gaining a deeper appreciation of the challenges families face around the world,"said Driehaus. "In Swaziland, volunteers are tackling the scourge of HIV/AIDS by educating young people to make healthy life choices. They assist thousands of boys and girls who have been orphaned by AIDS, helping them to see a brighter path for their futures."
After she found out about the Peace Corps Rachel submitted an application to join, and about a year later Rachel was finally accepted into the program.  Rachel is now currently in Sub-Saharan Africa in the kingdom of Swaziland, a tiny country bordered by South Africa and Mozambique. Swaziland is pretty diverse for being such a small country, divided into three velds: low, mid, and high. It is mountainous and cooler in the higher velds, and flat and hot in the lower velds.
Rachel has only been there for winter so far, but she has compared the winters there to fall in the United States.
Swaziland is developed in the cities, and is very underdeveloped in the rural areas; there are many issues currently going on in there.
"There is a lack of food and water. Sanitation is a problem. Swaziland has the highest prevalence of HIV/AIDS, and the impact is everywhere," said Rachel.
"
Swaziland has the highest prevalence of HIV/AIDS, and the impact is everywhere."
— Rachel Albright
Currently Rachel is in the stage of service where she is assessing her community for needs. However her overall goal for this trip will include, "teaching life skills, HIV/AIDS awareness, and sexual reproductive health to children, teens, and adults. I also have plans to build a library, start youth clubs, and the list can go on and on."
Rachel has come a long way in a few short years of her life, when only seven years ago Rachel was graduating Bellwood-Antis High School with honors in 2008. She continued her education at the University of Indiana of Pennsylvania where she attained a degree in Psychology. Rachel then went on to receive her master's degree from the University of Pittsburgh in Developmental Psychology. However no amount of schooling could have prepared Rachel for this journey.
Rachel is currently on her fourth month of her two year trip in Swaziland. Rachel confesses she misses the everyday luxuries that she has grown accustom to living in the United States, but these things do not compare to way she misses actual people back home.
"I definitely miss running water. I miss air conditioning. Although I miss these things, they are just things," she said. "I don't place as much emphasis on the materialistic things. What I miss most are my family and friends."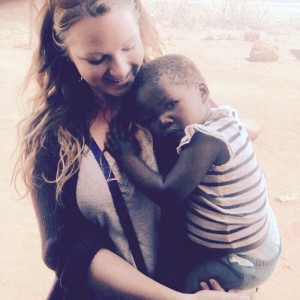 Rachel has already learned many valuable things.
"I feel so much more grateful for everything and every opportunity that I had growing up in the United States of America," Rachel said. "Seeing with my own eyes how much of a struggle life is for the people here is grounding. In retrospect, witnessing the joy and love for life that the Swaiz's have is inspiring. I'm learning to love life and be happy in ways I never knew I could."
Whenever Rachel returns to the United States during the summer of 2017 she is unsure on what she will do upon her return.
"I am anticipating that I will return to the USA a completely different person. This experience has already change my perspective on life so much; therefore, I cannot imagine how I will be feeling after two years here," she said. "For that reason, it's difficult to say where I will be or what I will be doing after service."
If Rachel could give anyone who was considering to join the Peace Corps would be, "Do it! It is life changing and an opportunity to integrate into a completely different culture. It is something that not many people get to experience."
"
Although I miss these things, they are just things. I don't place as much emphasis on the materialistic things. What I miss most are my family and friends."
— Rachel Albright