Stop worshipping Steph
Already considered the best basketball player of all-time, Stephen Curry is tearing his way through the NBA.
Crazy layups, pull-up treys, and half-court game winners are all in his ballpark.
"
Curry weighs 100 pounds soaking wet so he can't play the post, rebound, or even touch another player without falling down.
He has three records…. in the same category. Back in the 12-13 season, he set the record with 272 three-pointers. Last year, he set the record again with 286. A little over halfway through the year, Curry has surpassed that mark with 288. He is on pace to reach 400 this season. That record would never be broken by anyone, except maybe Curry.
You can't go a second on any ESPN network without them saying Steph Curry at least 17 times. That's a proven fact.
You could say Curry is the modern-day Michael Jordan. Except for the fact that defense is nonexistent nowadays. Every time you even so much as bump an opponent while defending, the ref will blow his whistle.
Curry has one MVP season and is halfway through probably another one. He won an NBA title last year. He makes shots and his team wins.
LeBron has been doing this for a decade, has 2 NBA Championship rings, and even made it to the finals last year where he lost to Steph's Warriors.
But LeBron has gotten overshadowed because he doesn't have Bible verses on his shoes.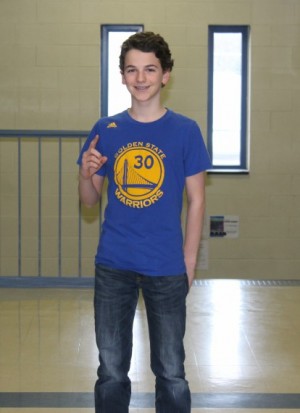 Here are some issues with Curry's game:
Curry takes an astounding 11 threes per game but he makes them at a forty seven percent clip. So there's no question why he takes so many. However, the fact that he has shot 100 more three's this season then two's shows an issue. If he goes into a shooting slump, he basically loses everything he has.
Stephani weighs 100 pounds soaking wet so he can't play the post, rebound, or even touch another player without falling down.
There's no doubt he's the best shooter of all-time, but the best player of all-time? He can shoot and operate an offense with ease, but his threes come at a premium. Three-point-four turnovers per game are average for a point guard, but for the best player of all-time? You think he would have less.
When asked about Curry as a legend, Isiah Thomas said, "He sucks." Once news came out about this, Thomas was kicked out the NBA Hall of Fame for not supporting Curry.
The baby-faced assassin, as they call him, can't even grow facial hair as a 27 year old. Maybe Stephen Curry can't age, and that's why he is so good. He developed a serum that made it so he stays young forever.
So there we go. Curry will continue to dominate the league for the rest of humanity.
View Comments(1)