Larimer and Rimmey continue their rise in the music industry
Bellwood-Antis grads earn a piece of an MTV VMA award
For those who don't remember Nathan Larimer or Josh Rimmey from high school, then you may remember Josh's video Bellwood: a Taste Of.  It was a glimpse of a small town in the Alleghenies.
Flash forward 10 years: Josh and Nathan are still together and making videos, most recently as part of an VMA award winning team directing the video for DNCE's smash hit "Cake by the Ocean."  It's a video that every student at Bellwood has seen or heard about. 
After graduating from Bellwood-Antis in 2009, the two went on to study film. Josh attended Ithaca College, where he graduated with a degree in film making. In his final year of college he produce a movie called Zach Williams Makes it Big Time, which was filmed at Bellwod-Antis High School and featured B-A staff and students. Nathan went on to study film and video production at Penn State. After college Nathan went on to do some local work for ESPN, among other projects. 
By fate the two later were able to reunite and begin working together to form Blackcoff.ee.  That was just the beginning. Now, at just 25, Josh Rimmey and Nathan Larimer are making music videos for top celebrities, filming videos, and dabbling in commercials. Nathan has also documented the tours of Blackcoff.ee musicians with photographs. One recent gallery of a DNCE tour was featured in Rolling Stone Magazine.
Josh and Nathan recently took some time to field a couple questions for the BluePrint on topics ranging from the incredible success they've received early in their careers, and what it's like to work with some of the biggest names in the music industry.
BluePrint: DNCE just won an award for Best New Artist at the VMAs. How does it feel to have been part of something that will skyrocket their careers and even your own?
Nathan Larimer: It's been such an incredible experience getting to work with DNCE from the very beginning. Our team, Blackcoff.ee, was brought into the launch of DNCE before the band was even fully solidified. Joe Jonas had been working on the music for quite a while so we knew about it just from working at the company and we were all very excited about helping to form the launch. We were pitched on the "Cake by the Ocean" music video early on, which was a huge undertaking, and from there we vibed with the band's style well. From then on, we did everything with them during their launch in New York City last year and through to now. Getting to see a year of hard work come together with the VMA win is just indescribable. I used to watch the VMA's every year and just dream of getting to have my work be acknowledged on that stage. It's been surreal to say the least. Exciting, but hard to believe at the same time. On top of that, MTV decided to recreate our music video for Nick Jonas' song "Bacon" for his live performance there, which even more of a head trip.
Josh Rimmey: It's been a very crazy experience. I think we knew that directing the "Cake by the Ocean" music video was going to be a big step for us because we knew it would be a smash. Being with a fresh group at the start of something new is challenging, but with DNCE our personalities aligned well, so making the video and content was… a piece of cake!
BP: You co-directed Cake by the Ocean with Gigi Hadid. What was it like working with her, and how did you come to be working with her?
Rimmey: Gigi was great to work with and brought a lot to the table. Her connections within the modeling industry helped bring a lot of talent out to be in the video. She's very smart, creative and fun to work with!
Larmier: At the time, Joe and Gigi were together. We had a meeting with the both of them to hear their idea for the Cake music video and riff on some ideas. From there it went through five or six major revisions until we landed on the cake model beach dodgeball idea. Gigi was really wonderful to work with. She didn't have a lot of experience working from the production side of a project like this, but she put in a ton of work, and it definitely wouldn't have been the same without her input. She's very sweet and down to earth. She wanted to make an awesome video and was willing to put in just as much work as everyone else to see it through.
BP: How did you get the idea for the video?
Larmier: Joe and Gigi approached us with a kind of rough idea involving a bunch of models and a massive slice of cake. I think in the beginning we were trying to set a world record for biggest cake, too, but that didn't get too far. Once we knew the video would have models, a beach, and a big cake, myself and the other three guys in Blackcoff.ee just work-shopped a ton of ideas along with Joe, the band, their manager, and the record labels. A lot of people had ideas along the way, and things they liked, and things they hated, that all needed to be considered. Up until the day of the shoot we were still tweaking and adjusting to make sure everyone involved was excited about its direction and that it was the right first look for DNCE.
Rimmey: The process is never as straight forward as one would think. Initial ideas are presented and things change daily based on wish-list talent availability, time, and financing. From the get-go, the core idea was to build a gigantic cake and have a cake fight with it on the beach. We built it out from there and decided it would be great if we set the scene up like a volleyball match. Everything you see in the video had to be constructed day-of, with the exception of the cake. That took 2 weeks to build. We also loved the idea of having it play as an ESPN type of broadcast, so we had to develop our own graphics and logos to make it feel authentic.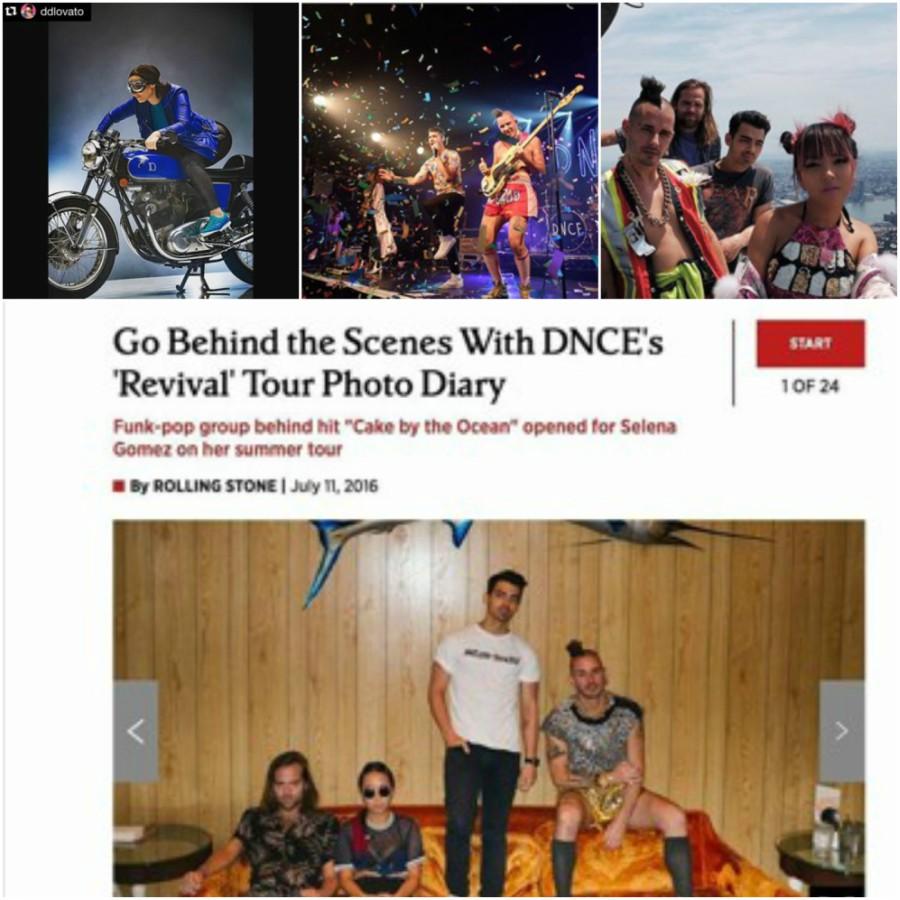 BP: Did you ever think that their breakout single video it would gain this much popularity?
Rimmey: We had a feeling it was going to be pretty big, though at first it was a slow climb. It was posted in October of 2015, and the views creeped along as people started to discover DNCE and "Cake by the Ocean." By April of this year, we were getting on average 1.5 million views a day for a good five-month period. It lived on iTunes charts as a top ten music video during the time period as well. Along with receiving MTV's Best New Artist VMA, we just nabbed the MTV VMAJ Best New Artist Video. The video is now Double Vevo Certified sitting at 204 million views!
Larmier:  Honestly, when the video came out, everyone felt a little underwhelmed, which is funny to think about it looking back. It got some media pickup, and people seemed to like it, but we were expecting a bigger splash I think. It took while to get the song into people's playlist and on the radio, but once it did, it just exploded. Everyone involved knew it was going to be successful, but I'm not sure anyone was ready for just how much people loved the song.Personally, I didn't have the time or energy to think about what could happen or what might happen. With a project of that size, you just have to focus on the idea and making it as great as you can.  Everyone was approaching DNCE as a totally unknown band. Joe obviously had a lot of name recognition, but in our heads we were launching a new band and knew it wouldn't just be an overnight success, that a lot of people would to put in a lot of work to get it off the ground to where we knew it could be.
BP: You work with the trio of Nick Jones, Demi Lovato, and now Joe Jonas. How does it feel to have worked with the top artists, and to have the opportunities they've given you under your belt?
Larmier: It's funny, before I started working with Philymack, which is Nick, Joe, and Demi's management company, I don't think I had listened to the radio or Top 40 music in years. I had no idea who was popular or what was going on in the celebrity world. I actively stayed out of it. Then one day, I'm in LA and we're working on the lyric video for Nick's song "Teacher" and getting ready to do the music video for Demi's song "Nightingale" and I'm like 'whoa. Where am I?'
"
It's funny, before I started working with Philymack I don't think I had listened to the radio or Top 40 music in years. I had no idea who was popular."
— Nathan Larimer
Rimmey: During that time we shot our first music video throughout Europe with Demi for her ballad "Nightingale." As for Nick and Joe, it's been amazing being a part of launching their individual careers, with Nick as a solo artist and Joe as the lead man for DNCE. Both have found great success in their respective ways, and personally being there on the ground floor and having a hand in making it happen is very rewarding. The most rewarding thing I would say is continuously working with some of my closest friends from high school and college, and being able to take this ride together. We, Black Coffee, are in essence a "band" of our own.
BP: How did the relationship with those artists begin?
Rimmey: Its been amazing to have been a part of their lives for the last three years. I moved out to LA two weeks after graduating college, and a day after premiering my thesis film shot in Bellwood, Zach Williams Makes It Big Time, in the high school auditorium. Long story short, it was a very rough transition. I was working inconsistent freelance jobs here and there as a background actor, assistant to a producer, and as a production assistant. I also drove my car for a ride sharing service called Side Car. One day I got a call to meet with Phil McIntyre, who is our artist's manager, to pitch him some ideas for sponsorship videos for Demi's Neon Lights Tour. When we joined Philymack, the Jonas Brothers had just broken up and Demi was about to embark on her tour. All eyes were on Demi creating the branded content for the tour's sponsors  while Nick and Joe got to writing. We then make our first lyric video for "Really Don't Care," which was nominated for a MTV Best Lyric Video MTV in 2014. Shortly after, our company started letting us have more of a hand in their commercials and music videos. On Demi's world tour, we needed another person on our team who could film and edit. That's when Nathan Larimer, one of my long-time best friends from Bellwood, got the 3 a.m. call and dropped everything he was doing to live on a tour bus for two or so months. He was the perfect fit, and has stayed in LA working within our group ever since.
Larmier: How we were brought into the world is very unique. We met the artists on a personal level before we started making big projects with them. In a way, I think they've learned to be comfortable with our ideas and what we're capable of so they've been willing to let us take some cool chances and try things other directors wouldn't get the chance to do. They're all very different to work with and keep us on our toes as far as what kind of ideas we can execute with each of them but I have nothing but great things to say about all three of them. They're all very passionate and work harder that I think anyone would expect. I never expected to have this much work under our belt with this many big names at 25. A lot of it is due to their willingness to try crazy stuff and trust us even if it doesn't make sense to them at the time. That's a level of trust we take very seriously. If we would take a chance on something and people hate it, that reflects on the artist personally more than it does on us for the general public. Yikes.
BP: Did you ever think that at age 25 you'd be working with famous people and doing what you love while becoming famous yourself?
"
I never really even thought about directing music videos, let alone videos for pop stars. I love what I do, and to me, this is just the start of everything."
— Josh Rimmey
Larmier: Absolutely not. No way. Like I said I just kind of  blinked and we were in New York for the VMA's. The idea of fame or working around famous people has never really been my goal or anything like that. I see a lot of people come through LA who are talented and hardworking, but then get wrapped up in fame and just lose it. Our goal has always been and always will be to make cool stuff for whoever we can and with whatever we've got. For a few years, we've all just put our heads down and worked as hard as we can. We'll have these moments every few months where we kind of come up for air for a second and look around and are like 'Wow, we didn't expect to be here,' and then put our heads back down and keep going. I feel so incredibly lucky to be where I am and to have had the experiences I've had.  A lot of it has been being in the right place at the right time, and a lot more of it has been staying up and working when everyone else has gone to bed. If you want it, go get it. As I've gotten a little older I've started to see that there aren't as many rules as you're told there are. Do things differently and be excited about it and don't stop when it's difficult and good things will happen. Turns out, there aren't a lot of people that have the authority to tell you no, and it only takes finding the one person who will say yes. As they say, fortune favors the bold. Be upfront about what you want and people respond. '
Rimmey: We recognized that this isn't a typical path for people our age, especially in this industry. Since the fifth grade I always knew that I wanted to be a director. I never really even thought about directing music videos, let alone videos for pop stars. I love what I do, and to me, this is just the start of everything. Right now, we are continuing to build our reel with intentions of moving to bigger projects like commercials, television series, and films. For what we do, you can't get star struck. It feels more as though I am working with friends and professionals at this point. They all have great sense of humors and are easy to get along with! As for us becoming famous…we're becoming famous?!?!
BP: Do you have any upcoming projects?
Larmier: Personally, I was on the road with DNCE for almost five months straight this year and just recently got back home. With Nick and Demi's Future Now Tour ending, they're both taking some time to recharge and work on other endeavors. That leaves us mostly focused on DNCE's album launch this November and Chord Overstreet's first single launch, which we just shot the music video for in Nashville a few weeks ago. Los Angeles as a whole kind of starts to slow down in these last few months of the year, and most of the focus is on getting the last few projects out before everything shuts down for the holidays. Personally, I'm looking forward to coming back to Bellwood for a while to relax and spend time with my parents. I'm really excited for what the New Year will bring. I feel like we all need to rest up because there are a lot more long nights ahead.
Rimmey: Chord Overstreet's debut single Homeland  came out October 7, and we have new videos coming out for Nick and DNCE soon! Check out Last Year Was Complicated, a documentary series we recently completed on Neck that is now live on Tidal and Vevo.