Devils advance with win over Southern
So-so victory wasn't what B-A hoped for, but it's good enough to advance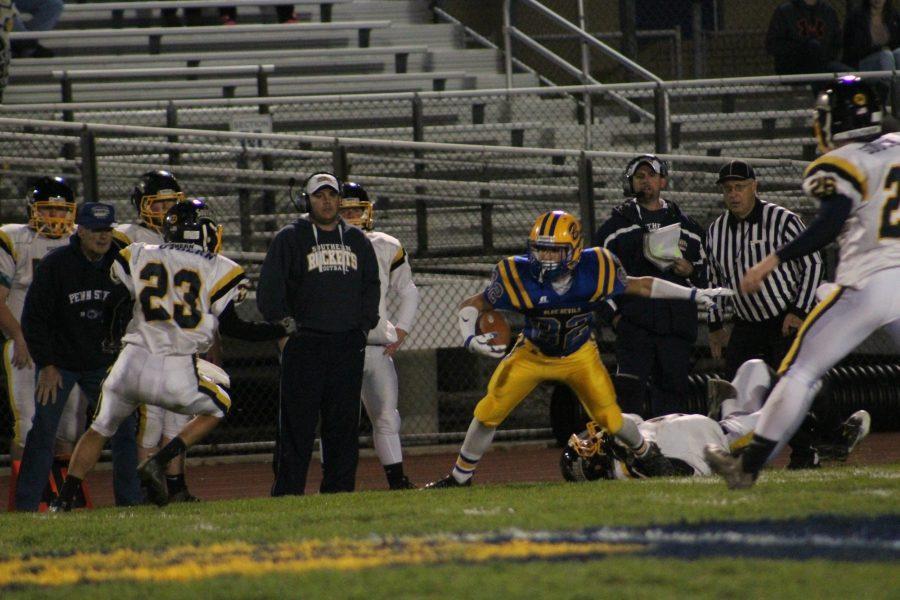 Going into the first round of District 6-AA playoffs against Southern Huntingdon, the Blue Devils seemed confident.
Early on, it looked like they had every right to be, considering they dominated the Rockets two weeks ago in Week 8.
"
We started out really strong and took our foot off the gas because we thought that we already won."
— Ryan Moore
But that kind of success can also lead a team to take a unnecessary breathers, and that's what happened Friday in B-A's 35-13 win over Southern
The Devils led by three touchdowns before the Rockets starred a rally that B-A withstood before pulling away.
"We had a good first half but then we came out a little flat in the second," said Jarryd Kissel. "We did enough to get the job done, but we will need to work harder this week."
Bellwood-Antis, now 10-1 and winners of 10 in a row, will face No. 3 Bishop McCort Saturday at Memorial Stadium in the semifinals.
The Blue Devils dominated the first minutes of the game when Duke Brunner scored on two major plays in the first quarter. Brunner, only needing 96 yards in the night to reach the 1,000 rushing yards milestone, ran for 158 yards on 16 carries and scored on a 56-yard reception from Taneyhill after a 47-yard run to score.
Brunner scored yet again on a one-yard run to give B-A a 21-0 lead into halftime.
That's when the Devils began to let up a bit on defense, allowing the Rockets to fire back in the third with a 22 yard completion from Eric Patton to Riley Myers, followed by a 9-yard run by Nic Devlin to score in the fourth.
Before you knew it, the Rockets had turned this one-and-done situation into a dogfight, down a single touchdown.
"We started out really strong and took our foot off the gas because we thought that we already won," said Ryan Moore. "Once they started coming back and getting momentum we had to try to get going again, but it took us awhile to get back in gear ad start scoring again."
The Devils pushed to score twice more in the fourth to close the game.
Brunner ran for 42 yards for his fourth and final touchdown of the night and Thor Schmittle fired out on a 32-yard run to finish the game with the final score of 35-13.
Brendan Kowalski finished the game with five PATs and has now made 41 out of 48 PATs in this season alone.