Blue Devils pound Southern
B-A wins its eighth straight after overcoming a slow start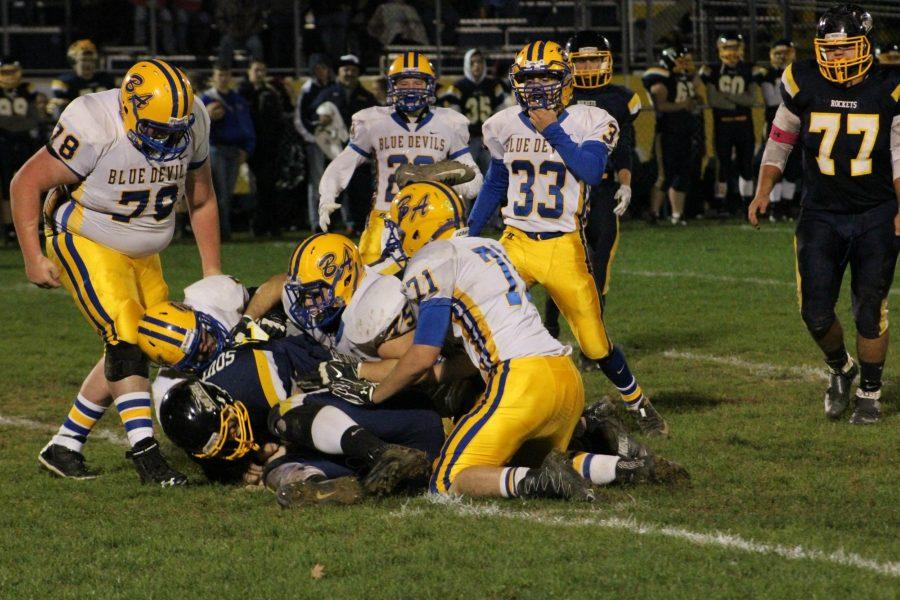 With only one loss, B-A stayed on an eight-game win streak this past Friday with a 42-6 win over the Southern Huntingdon Rockets in Orbisonia.
Duke Brunner led the Devils in rushing with 123 yards on 15 carries with four touchdowns. Brendan Kowalski and Ethan McGee both snagged a touchdown each.
Kowalski has two catches for 97 yards and McGee had two for 40 yards. Kowalski also finished the night with six PATs.
"We knew it was their senior night, so we made sure we shut down their energy level to try to frustrate them," said Brunner. "And we did."
Having a record breaking season already, Jarrett Taneyhill ended the night completing 8 of 10 passes for 206 yards. Taneyhill completed a 54 pass to Kowalski in the second to become the first B-A quarterback to pass for 3,000 yards in his career.
This was also his twentieth touchdown of the 2016 season for another record.
"I'd say that the records being broken definitely reflect our offense as a whole," said Taneyhill. "Without my teammates these records wouldn't have happened."
BluePrint Sports
Taneyhill also broke the Bellwood-Antis single season record of 1,562 yards passing for one season with 1,642 yards. This was previously set by Chuck Benton. He also broke the record of pass completions in a year with 92.
It didn't take much for the Blue Devils to get into action after giving up a touchdown run by Southern Huntingdon's Nic Devlin in the first quarter. The Devils fought back with a 7-yard run by Duke Brunner to launch B-A in the lead 7-6.
The Blue Devils defense was able to hold the rockets after their single score in the first.
"
We started slow, but once again we got it going. We step up big when it's needed."
— Austin Desch
"We started slow, but once again we got it going. We step up big when it's needed," said senior defensive lineman Austin Desch.
Keeping the energy high, the Blue Devils jumped right into the second quarter with a 54-yard completion from Taneyhill to Kowalski to make it 14-6. The Devils continued to dominate the field with a 26-yard run from Brunner to score and then a 12 yard run also by Brunner for another touchdown.
Brunner again drove for a 17-yard touchdown in the third, his fourth TD of the night, to keep the Devils ahead 35-6. McGee then picked up a five yard pass by Taneyhill for the final score of the night.