UNSUNG HEROES: Mrs. Chamberlin and Mrs. Shoop
Enter the high school or Middle school office, on any random day-what do you see?
Juxtapose: On one hand you see an organized office, always running smoothly and never out of place.
Why is it always running smoothly? Because of the sweet office secretaries!
They handle everything, and that's why there appears to be no chaos.
But in truth, the school office is a very busy and hectic place, and it is up to high school secretary Mrs. Amy Chamberlin, and middle school secretary Mrs. Luan Shoop to do all of the work.
To help out with paperwork and odds and ends, high school students can work in the office during free preiods, but the job of running the school from a clerical perspective falls mainly on Mrs. Shoop and Mrs. Chamberlin.
Both of the office secretaries are always very busy organizing principals' schedules, assisting students, dealing with locker problems, and compiling inventory, among a host of other jobs.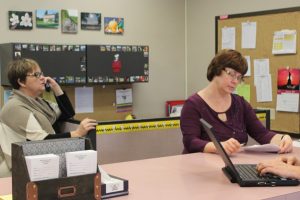 When one of the ladies gets sick and can't come to work, it means double duty for the other secretary.
"The hardest part about my job is multitasking constantly," says Mrs. Chamberlin.
But on the other hand, there are always good things about working and keeping busy.
"The best part about my job is definitely the students," says Mrs. Shoop.
Both building principals appreciate the hard work and organization displayed by Mrs. Shoop and Mrs. Chamberlin. Working in the same office, they see it first-hand every day.
"Amy and Luann do a great job running the office.  Their hard work helps make the day better for everyone: students, parents, teachers, and especially the principals," said high school principal Mr. Rick Schreier.  "Specifically, Mrs. Chamberlin and I work very well together, and she really has assisted me in the transition to the principal's office."
Middle school principal Mr. Don Wagner is greatly impressed with the ladies' attitudes.
"I'm always impressed with how easily LuAnn and Amy handle the various aspects of the job," he said.  "From curriculum, to bus routes, to student and teacher schedules, they seem to know it all.  More importantly, they greet everyone with a smile and a friendly demeanor."
Bellwood-Antis is very thankful for all of the work these nice ladies do to keep the school running smoothly. What would the students and principals do without them?