Featured Alumni: Katy Leamer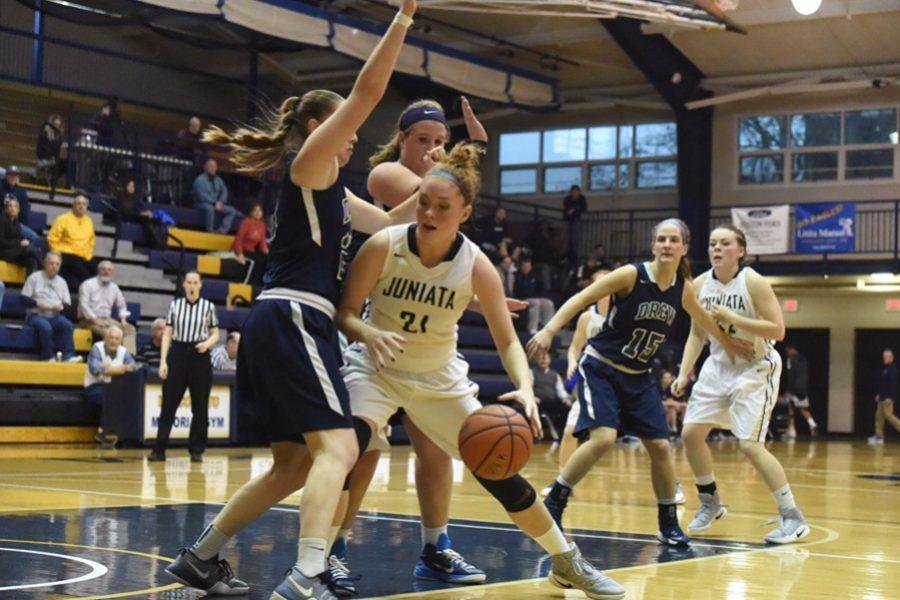 A perfect opportunity, a perfect school, and a perfect place to remember.
These are the qualities that 2013 Bellwood-Antis alumnus Katy Leamer appreciates in Juniata College, where she has played basketball for the last four years.
Her career started in Bellwood, and Katy was a great player. She was a 1,000 point scorer at B-A, where she played from 2010 to 2013.
Coach Jim Swaney of the Bellwood-Antis  girls' varsity basketball team said, "Katy was a very valuable member of the team for the three years I coached her."
Katy said she chose Juniata "for the strong academics, plus the opportunity to further my basketball career." She also said the best part about Juniata is the opportunity to play at a high level day in and day out.
"I couldn't be happier with my decision, as I have had success in the classroom and on the court, as well as making the very best friends all because of Juniata," she said.
"
I have left the programs better than when I entered the programs.
— Katy Leamer
As a freshman she appeared in 23 games and started 12 and had an overall 102 points.
Her sophomore year she played 24 games and started 10 with an average of 9.5 points off the bench.
Last year she averaged 8.6 points for her 25 games, ranking 4th on the team.
"I feel a sense of pride for Bellwood and Juniata with my careers ended," Katy said.  "I have left the programs better than when I entered the programs."
Coach Swaney, who coached Katy for four seasons from 2010-2013, isn't surprised by her success.
"Katy was a student of the game, she was very comfortable with the ball either facing the net or with her back to the rim," he said. "She was the kid who knew how to score and was good at doing so. She will be remembered as one of the best players in school history and will always hold a special place with me."
Katy's sister Kelly joined her on the basketball team in 2015 after she graduated from B-A.
"Playing with Kelly has been fun. There has never been a dull moment," Katy said.
Katy's major is financing. She also participates in multiple jumping events in track.
"I plan to stay at Juniata for a fifth year to get my Master of Accounting," she said. After her fifth year she will obtain her CPA certification.