BASD revamps website
Complaints from students, faculty, and parents about the Bellwood-Antis School District website have been addressed, and over the summer the district completely revamped its sight to be more user and tech friendly.
Previously, the Bellwood-Antis website was not easy to navigate through nor was it user friendly.
"
The old website was a poster job for what not to do for a school district website.
— Dr. McInroy
Dr. Thomas Mclnroy, The Bellwood-Antis superintendent, said when he first started working at the school in 2014 he knew it was a problem.
"In my own personal opinion, the old website was a poster job for what not to do for a school district website," said  Dr. Mclnroy.
Dr. McInroy had a list of priorities that needed to be addressed, and when he started the website wasn't at the top of the list.
Finally, at the end of the 2016-2017 school yea,r the Bellwood-Antis School District made it happen.
The new site, which can be accessed at blwd.k12.pa.us,  offers many improvements. The site now has a scrolling marquee with pictures of some of the recent things that are happening in the school. The body of the page displays more useful information, and the entire website is very easy to navigate thanks in part to a vibrant color scheme. The drop down menus at the top of the page have more information contained in them, which is more helpful to everyone.
The site also contains quick links to district information like athletics and transportation, and links to brief stories about things going on around B-A.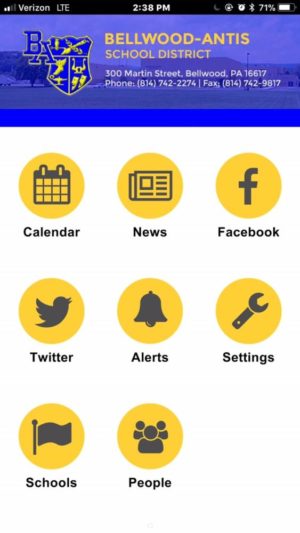 "We will always be updating the website. It's going to be a never ending thing. It's going to be a document that never goes away as far as working on it, it's kind of like groceries at a grocery store. Someone is always changing merchandise" said, Dr. Mclnroy.
Dr. McInroy said that over the summer B-A had a few more projects added onto its plate that took time away from the website. Still, Dr. Mclnroy made a promise to the school board that the website would be up and running the first day of school, which was kept. It wasn't 100%  workable by then, but it is now.
One person that had a big part in making the school website was District technology Coordinator Mr. Michael Lingenfelter.
"Our technology coordinator, Mr. Lingenfelter, set up our new website and has been working to migrate info from the old version to the new one, and all of the administrators have helped," said Dirrector of Instructional Technology Ms. Jamie Forshey.
Mr. Lingenfelter said he had a big rule in the website: it was was more of a necessity then a vision.
"As technology changes there is a need to adapt to the way we present information," he said.
Since creating the first website, people had begun to use smartphones tablets that display information in a different way than a traditional web browser.
Mr. Lingenfelter said there were some challenges such as finding a good partner that would help host the program and to make it available to everyone in many different ways. Now the new website even has an app for use on smartphones and tablets, which includes easy access to calendars, news, social media and alerts, among other things.