FEATURED ALUMNI: David Burns
2007 grad has done it all, from bodybuilding to police work
In high school, David Burns was the typical average kid.
Mr. Lovrich, a teacher and coach at Bellwood-Antis High School, described him as one of those kids trying to find his way.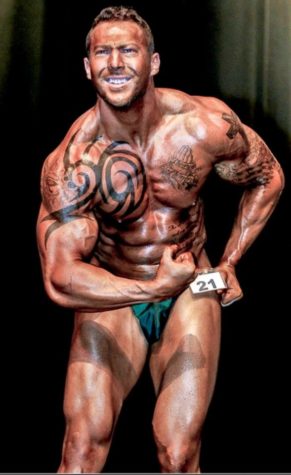 "He was the average football player. He did some good stuff for us. He hustled. Worked hard, even though he wasn't the most talented kid," Mr. Lovrich said.
Since then, however, David has changed in big ways. Now, a police officer in San Diego, he participates in bodybuilding competitions and has served in the military in Special Forces.
His progression from high school has been something of a surprise to David himself, as well as those he left behind in Bellwood.
"I've always feared being stagnant. Therefore, I've always looked for a way to improve my life, face new challenges, and develop myself into a better and more well-rounded human being," David says.
Mr. Lovrich said joining the military was a turning point for David.
"Him going to the military was probably the best thing for him. It really gave him a sense of direction, and it led him to the things he's doing now," Mr. Lovrich said. "He was able to go to college after being in the military. He's been a success story. He's one of those kids that leave high school and really flourish."
David graduated from Bellwood-Antis in 2007. He played football and baseball.
After graduation, he went into the Air Force, spending four-and-a-half years on active duty. He spent time in Security Forces, and also was a tactical enforcer on the Special Response Team (SWAT).
David later chose to go back to school, enrolling in Lycoming College in Williamsport, PA, where he continued to play football. He majored in criminal justice and had a minor in psychology.
It was during college where Burns, who played football at Bellwood-Antis at around 160 pounds, discovered one of his passions when he began to get into bodybuilding to recover from injuries that arose from playing football.
"I tore my Achilles tendon freshman year and then I tore my ACL, MCL, and meniscus sophomore year in college football," said David. "I began bodybuilding to recover from my injuries, but still had the desire and discipline to lift, diet, and compete."
Since then, David has competed in two National Physique Committee (NPC) competitions.
Several years after college, David moved to San Diego, California and accepted a job as a police officer.
"I received an email that the San Diego Police Department was hiring," he said. "I had never been to California, and saw it as an exciting new challenge and opportunity to begin a new career in a place I had never been."
David, though now living across the county, still remembers his hometown of Bellwood fondly.
"
Challenge yourself constantly. Never be satisfied. Don't be afraid to step out of your comfort zone and fail. "
— David Burns
"I always try to come home for major life events involving my family or close friends. Home will forever be where my heart is no matter where I am," said David. "Every trip home is like opening a floodgate of memories. It's an overwhelming and humbling feeling that reminds me who I am and where I come from."
A true-life success story, David believes high schoolers today should push themselves to succeed.
"Challenge yourself constantly. Never be satisfied. Don't be afraid to step out of your comfort zone and fail. When obstacles present themselves, find a way around them or bulldoze right through them. You will feel failure, pain, and loss but those things will never be as powerful as the feeling of succeeding."