Featured Alumni: Jacqueline Finn
Small town girl with big city dreams
What is it that makes a small town girl crave a shot at the big city scene? For some, it's a matter of getting out of the house and exploring the world, while others are deafened by the silence of a small town.
In the case of Bellwood-Antis grad Jacqueline Finn, the Big Apple drew in her passion to play and a love to learn.
Jaqueline, Bellwood-Antis Class of 2015, now attends and plays softball in the heart of Greenwich Villiage at NYU, and is this month's featured alumni.
"What initially attracted me to NYU was the interest the softball coach expressed in me," said Jacqueline. "What solidified my decision was how great the business school is. I'm getting a top notch education, and playing softball at the collegiate level."
"
I'm getting a top notch education, and playing softball at the collegiate level.
— Jacqueline Finn
As one might imagine for a student living in the most ethnically diverse city in the nation, Jaqueline has taken full advantage of the mixture of culture that only New York City can offer.
"Probably the thing I like most about NYU is the wide variety of people I've gotten to meet and become friends with," said Jacqueline. "People from all over the world come to school here so it's really cool to see how their lives and cultures are different from mine."
Moving from a homogeneous town of fewer than 2,000 people to a city of 8 million people, there was certainly a period of adjustment for Jacqueline, as there is with many NYU players, according to their coach, Now-Allah James. However, James said, the biggest adjustment is to softball life in the city, as opposed to just life in the city.
"There are some little things that are different for us being in the city.  Being that we do not have a field right there on campus they have to get use to traveling to our practice and game facility but they do a great job with that," he said.  "During the recruiting process they understand that our situation is unique and the opportunity to do something great in that environment is what peaks a lot of their interest.  They have the same experiences as any other player at any other university but in a lot of ways get to experience a lot more."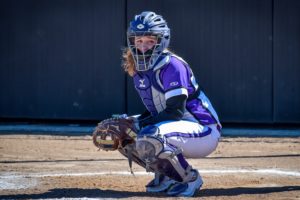 Along with the change to a multicultural environment, Jacqueline, a catcher, also cited the difference in the game she plays.
"I don't get to play every game like I did in high school," said Jacqueline. "Catchers rotate every game and you really have to fight for position even harder than you do in high school."
Despite not playing every game, Jacqueline still has put up stellar numbers. Last season she played in 25 games, starting 19, and hit .306. She slugged .468 with a pair of homers, two doubles and a triple, driving in 11 runs.
Coach James reflected on Jacqueline's growth as both a player and a person.
"Jacqueline has developed tremendously not only as a player but as a person.  She has developed into one of our most dependable hitters and behind the plate we can always count on her to do the little things on the field that it takes to win," Coach James said.  "She has become one of our team leaders and has been a great role model for our incoming freshman."
"Her work ethic, energy, and smile are infectious," he continued.  "She has been an absolute pleasure to Coach and a great representative of our team and university.  When she graduates she will leave behind a great legacy for those that follow her."
She did the same at B-A, graduating with more than 100 hits and a pair of District 6 championships.
Despite the high-level competition, what has been most important to Jacqueline at NYU has been the friendships she has developed with her teammates.
"They are truly some of my best friends, and at such a large school it's nice to have a group of people that understand what you're going through," Jacqueline said.
Jacqueline has aspirations to become an actuary, and the love that she has acquired from the city has had an impact on her future plans in a very big way.
"I could see myself staying in New York post-graduation, but ultimately I'd like to live and work near Pittsburgh at some point in my life," Jacqueline said.