Homecoming: Combined Band Performance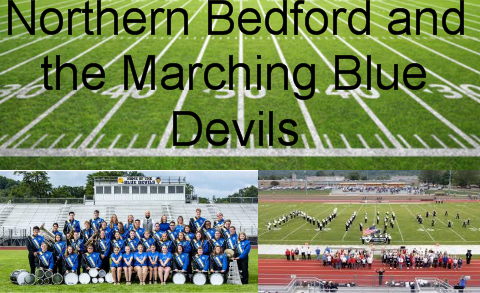 At Friday's homecoming, the Marching Blue Devils and the Northern Bedford band will be doing a combined performance at halftime. The songs that will be performed are "Sweet Caroline and "I'm a believer" by the Monkees, made famous in the 60's, then covered by Smash Mouth in Shrek. 
Mr. Jerry Berry, the NB band director, said that it was a challenge to fit in their show, "Mr. Sachse and I were talking and Mr. Sachse was concerned that half time would be limited, so we both took a look at what we have in our libraries, and chose songs we have in common. It should be fun." Mr. Sachse also added that they have seen other bands do a similar thing and thought that it would be a fun change.
BA musicians are excited about the show this week, and it shows, "I am extremely excited about leading a larger band with another drum major. This will be a great educational experience for the band and I." . This will be a very good opportunity for Dominic to get to see what other band majors do and how they perform.
This will be an opportunity that the bands will never forget and will carry with them for a long time. It is also something that college bands do and it is an interesting performance to do that people at the college level do. This is going to be an interesting halftime.