Speaker uses humor to promote acceptance
Keith Deltano, a nationally recognized comedian and anti-bullying speaker, visited Bellwood-Antis on Monday to tell kids that it is okay to be different. "You are weird and beautiful," Delatano told his audience, as one of his big messages.
Keith spoke on important topics that are often avoided, especially in front of 400 high schoolers who know what he is talking about all too well.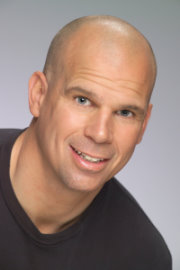 On the issues of school drama, gossip, racist comments, and cyber attacks, Deltano said student "immediately think- that's not me."
A former middle school teacher, Deltano is one of the nation's most requested anti-bullying speakers and authors. He has also developed a website to spread his message.
He is a winner of the Teaching Excellence Award for his work with at risk youth and the National Impact Award for his parent education efforts. He is also the author of the anti bullying curriculum, "The Complete Anti Bullying Kit." Deltano has served and worked with youth and families as a, private counselor, youth worker, and US Army Military Police Officer according to AllAmericanSpeakers.com.
This speech was the first of its kind for Bellwood-Antis, according to high school principal Mr. Richard Schreier, who said, "I thought he could deliver the message to the community comedically but also truthfully. I thought it was necessary, not that we have a rampant problem, but we have a problem in society. So when I had the opportunity through (middle school principal) Dr. Wagner, I jumped on it because it was a great outside source for the students and staff to see. It was a different way to send the message that we as a school and society need to abide by constantly. He also showed us that it is about perspective, and that some have to realize and be able to see and understand other people's perspective." 
Deltano hit every factor of bullying head on the nose, conveying his ideas and realizations about groups and popularity.
"
The fitting in and normality are overrated. Popularity is overrated."
— Keith Deltano
"There is nothing wrong with groups. It is a problem, though, when the purpose of the group is to exclude others," said Deltano.
Deltano bolstered his speech by talking about his life and the struggles he has had in his family, along with his mental struggles. He said he was bullied in third grade for not being able to read due to dyslexia and talked about his struggle throughout life with ADHD. 
"It is okay to be weird. You are weird and beautiful and it's okay, because after high school none of that matters. The fitting in and normality are overrated. Popularity is overrated," said Deltano. 
Near the end of the presentation Deltano spoke about men's treatment of girls and teenagers sending nudes to others. Deltano gave the students a local example of a Pittsburgh boy who had lost his full ride scholarship to UCLA  because he was busted for sharing nude pictures. He reminded students such actions constituted child pornography. 
This and other forms of cyber-bullying, he said, are gutless.
"If you have a problem with a person, go see the person," Deltano said.
In the end, Deltano encouraged students to reach out to each other and take care of each other.
"Love each other, take care of each other," said Deltano, with one of his lasting messages.
Keith came to B-A not only to speak with high school students, but he also spoke with middle school students and elementary students at Myers.