Lovrich becomes cross country state medalist
Alexis Lovrich became a cross country state medalist on Saturday, November 5. The meet, which was held at Hershey's Parkview Cross Country Course, consisted of almost 300 runners.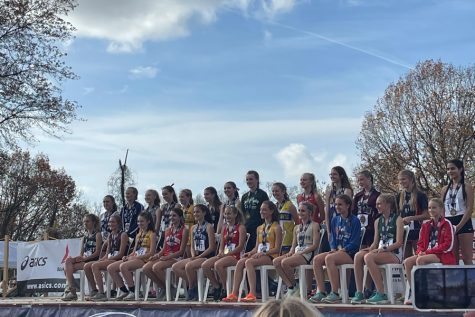 After an accomplished season of leading the Bellwood-Antis girl's cross country team, Alexis Lovrich placed 20th overall with a time of 21:09. 
Lovrich is the only cross country runner from B-A to medal at the state championship meet. In addition to the title of state medalist, Lovrich was also named top female runner in the ICC, which was earned in the ICC championship meet on October 19 with a time of 19:44. 
"My hard work finally paid off," said Lovrich. "I'm so happy and glad my friends and family were there with me. My coaches supported me all season long and kept me calm at every meet. I can't thank them enough." 
It was a proud day for B-A coaches, especially first-year head coach Mr. Hunter. 
"Lexi ran a fantastic and smart race on Saturday," said Mr. Connor Hunter, head coach for B-A cross country. "While other girls started out too strong, Lexi knew what pace to begin at and began to pick off girls ahead of her one by one. I was honored to have a state medalist on my first year as Bellwood's head coach. I was blessed with a really great team this year."