Too cool for school : ROADIES TAKING OVER
Having a job during the school year isn't easy, but Ava Miller, Brayden Wagner, Kamryn Bolden, and Annie LeGrand all make it work.
Ava, Brayden, Kamryn, and Annie are all "roadies" at one of the most popular restaurants in Altoona, Texas Roadhouse. They're all senior s at Bellwood-Antis High School with the exception of Annie, who is a junior.
BRAYDEN
Brayden Wagner, a busser, began working at Texas Roadhouse about 2.25 months ago and plans to work there until he leaves for college. His favorite part of working there is arguing with the dishwashers and his favorite moment so far was witnessing a new SA spill her bus tub on the floor and then watching her tear up about it. 
"
I joined the Roadhouse team to become legendary.
— Brayden Wagner
There's no doubt that Texas Roadhouse is always busy, so how does Brayden handle the pressure of the long waits and busyness of the restaurant? Well, he keeps calm and relies on others to do all the work.
"I joined Texas Roadhouse to be legendary," says Brayden. 
Brayden's go-to meal at Roadhouse is a filet cooked to medium with a loaded sweet potato (caramel sauce and mini marshmallows) with french fries on the side, dipped into house-made honey mustard sauce, with a Coke to wash it all down. 
AVA MILLER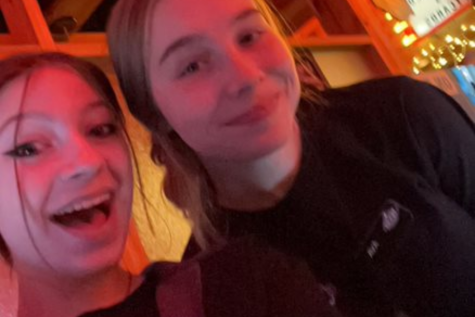 Ava Miller, a hostess and server in training, is not a new roadie! She has been working at the restaurant for over a year and a half and plans to work there all through college. Ava's favorite part about working there is dating the owner's son, but her top moment has to be when a customer almost pulled a gun on her because she made him wear a mask! Wow!
Ava joined the Roadhouse team because her friends Eli, Gaven, and Ethan all worked there, but unfortunately they all quit as soon as she got hired.
 Ava's number one rule when it comes to keeping yourself calm during a huge rush is, "Keep calm and don't let the customer be right!"
After a long time of working there, Ava's favorite meal is mini-cheeseburgers and a side of hot fresh fries.
KAMRYN BOLDEN
Kamryn is also a Roadhouse veteran, working there for over a year and a half, and he plans to work there until the end of next year.  Kamryn's favorite part of working at Texas Roadhouse is the environment in the workplace and his coworkers. One of his favorite moments so far was a winter day when they were not busy and he and a group of his coworkers all hung out and listened to music during their shift.
Texas Roadhouse was Kamryn's first job and he joined the team because he needed money and they were hiring.  Kamryn has had a ton of promotions so far in his Roadhouse career, advancing from bus boy a year-and-a-half  ago, to now cooking ribs.
Kamryn's key mindset for when their is a large demand for food in the kitchen is, "Got to keep a clear mind and do not get overwhelmed when there is a lot of food to cook,".
Chef Kamryn's favorite meal is a grilled chicken sandwich with jack cheese underneath some sautéed mushrooms, topped with pickles and mayonnaise.
ANNIE LeGRAND
Annie LeGrand,  a hostess, has been working at Roadhouse for over half a year now and she does not plan on leaving anytime soon. Annie's favorite part about working at Texas Roadhouse is closing time, but she really enjoys when their manager will buy them brownies at the end of their shift if they do a good job. 
Annie joined the Texas Roadhouse team because they gave her a job as soon as she came in for an interview! It was destiny!
Since Annie is a hostess, she has to deal with the customers waiting in line first-hand. She tends to deal with the pressure of impatient hungry families by crying and hiding in the bathroom. 
Annie's favorite meal at Texas Roadhouse is the rolls and blue lemonade.
 —
Who knows how long the world will remember a legendary bus boy from Bellwood, but what will be remembered are the four legendary Bellwood students working on the Roadhouse staff at once. 
Next time you go to Texas Roadhouse to enjoy its famous hand-cut steaks, fall-off-the-bone ribs, made from scratch sides, and fresh baked bread, keep an eye out for Annie, Ava, Kamryn, and Brayden!