TOO COOL FOR SCHOOL: Sidney Davis
Sidney Davis is a freshman at B-A with interests outside of school that go way beyond reading, writing, and traditional book learning.
Outside of school she raises goats. She started going to a family friend's farm at age 10 to help with cattle and goats, and now the family now has over an acre fenced in for her where she raises three of her own goats. Her plans are to raise them and sell them for show.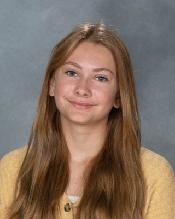 Sidney plans on getting more goats and that process will start soon as her doe is currently pregnant and almost ready to deliver. The experience has raised an interest in Sidney in becoming a veterinarian. Recently, while tending to her doe, she had to help reposition the babies in the womb, and the experience impacted her greatly.
Sidney said a typical day of caring for her goats could include feeding them, clipping their fur in the summer, trimming their hooves, and making sure they have hay.
Raising goats can be quite lucrative, with goats raised for show selling for thousands to tens of thousands of dollars, Sidney said.
For her time at BAHS, Sidney has enjoyed freshman year. She loves the freedom of high school.
"I would say it's a lot different from middle school, more freedom," she said.
Her favorite classes are art and science, though she is anxious to be done with school.
"Now that I'm older, it goes a lot quicker," said Sidney.
She said she is excited for the coming year so she is "getting closer to senior year."