Power of Three- Best Condiments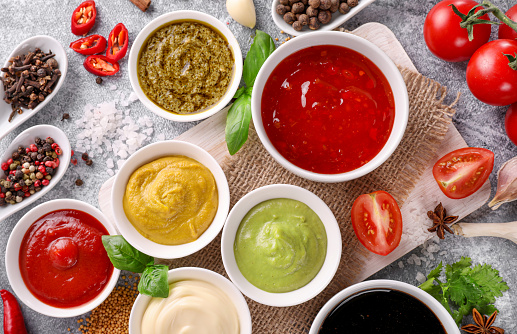 Hello and welcome to the Power of Three
Today's topic is best condiments.
3. BBQ Sauce 
BBQ Sauce is a classic in the condiment world. In my opinion, the best thing to put BBQ sauce on is chicken. BBQ sauce also has many different flavors, like hickory and honey barbeque, and they are all very good. The main reason that BBQ is number 3 on the list is because the top 2 are undoubtedly the best condiments ever.
2. Ranch 
Ranch is a really solid 2 in my opinion. Ranch can pretty much go on anything. Just ask my friend Logan Rodland about that; he puts ranch on everything, even on his corn. Ranch is overall just a really good condiment and is also has a bunch of flavors that are really really good. The only peeve that I have against ranch is if you put too much ranch on your food you could ruin it. Other than that, ranch is a really good condiment.
1. Ketchup 
Ketchup is like the Michael Jordan of the condiment game, it is G.O.A.T. Ketchup can pretty much go on everything, from hotdogs, burgers, and fries, to eggs, chicken patties, and even steak. I love ketchup and that's why it lands at my one spot. There isn't much to say about ketchup other than it is really really good
There is so many different condiments, so who knows? An examination of a Top 10 may be in order.
Leave a Comment