Featured Alumni: Nathan Larimer
Young film maker has already worked with some of the top music acts going today
Some people don't believe in luck or chance; that one can simply be in the right place at the right time.
Bellwood-Antis graduate Nathan Larimer knows all about luck, and the value of being in the right place at a time when your life could change forever.
In the last few years, with some hard work and dedication, Nathan has been able to achieve the unimaginable, working in the film industry with some of the hottest music acts out there today, which is one of the reasons why Nathan has been selected as the B-A BluePrint's Featured Alumni for the month of December.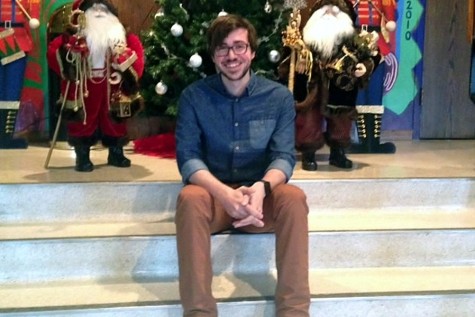 Nathan Larimer stopped by Bellwood-Antis for some pictures just before Christmas break.
He's driven by passion for the art of film and video production, but he never thought he'd see himself working with some of the top names in Hollywood.  At least, not two years after graduating from college.
Nathan graduated from B-A in 2009 and attended Penn State, earning a Bachelors of Arts in Film and Video Production. Upon graduation in 2013 he moved to Pittsburgh with some friends who had also graduated in the film major. He went on to work on some television shows and some movies, including the hit The Fault in Our Stars as a production assistant, which is basically the "bottom rung" on the production ladder.
It's the "entry position for most people trying to break into the industry," he said.
Nathan depicted the people he met as welcoming and helpful.
"I met some amazing people in the camera department, which is where I wanted to work, and they took me under their wing," Nathan said.
Cue serendipity.
Come September of this year, one of Nathan's best friends got a hold of him. Josh Rimmey, who graduated from B-A with Nathan, had graduated from film school at Ithaca College in in New York and moved to Los Angeles for his final semester for an internship. Josh was working at Philymack, the company that manages the Jonas Brothers and Demi Lovato.
Nathan was given a two day heads up from Josh to fly to San Antonio to help out with a large project that was in the making – a tour with Demi Lovato.
"I obviously accepted," said Nathan. "We rode the tour out to LA."
While on the European leg of the tour, Nathan was part of the crew that directed and shot video for Lovato's new music video "Nightingale," which was released just before Christmas.
After helping out and making it to LA, Nathan assumed he was done and that he would be heading back to Pittsburgh. To his surprise, the people at Philymack offered him a job if he stayed in LA .
"I wasn't planning on staying here but there's no way I could turn that down. So yeah, it was very unexpected, but I may have had the easiest transition to LA on the planet," Nathan said.
While working on the project with Demi Lovato, he had a moment where he realized that his dreams and goals had become an amazing reality.
"I said my life goal was to travel the world and have someone pay me to hold a camera. And I was standing on a bridge over a canal in Amsterdam filming the boats gliding around and was like, Wow. This snuck up on me," said Nathan.
Nathan has also worked on several videos for Nick Jonas, including "Teacher," and the gospel version of the hit "Jealous."
This all just goes to show that it doesn't matter how small of a town you come from or what your goals are, as long as you follow your dreams, with a little luck, you can make it.
Nathan always had an interest in film.
"
I said my life goal was to travel the world and have someone pay me to hold a camera. And I was standing on a bridge over a canal in Amsterdam filming the boats gliding around and was like, Wow. This snuck up on me.
— B-A grad Nathan Larimer
"I used to run around with my friend and use my parents' old VHS camcorder to make little TV shows," said Nathan.
The real moment he realized that he could do this for the rest of his life was in the tenth grade English class of Bellwood-Antis's Mrs. Kim Trostle when he was given the option to do a video instead of a report for the final. Nathan, along with Josh, made a movie trailer for Julius Caesar.
"I can clearly remember when Josh and Nathaniel chose to do the Julius Caesar assignment – after seeing that video, I knew that he and Josh were destined to make movies," Ms. Trostle said.
"We edited it on an old computer in Windows Movie Maker and when it was done, we both looked at each other and were like, 'This is the coolest thing on the planet. We can actually do this,'" he said.
Shortly after his epiphany, Josh and Nathan agreed to go to film school together, and they continued to work on their craft throughout high school.
"Nathan and I did a film camp together between our junior and senior year at Penn State where we got to go for a week to experience the college life… and shoot a few films together," Josh said.
"Nathan was one of the most creative and talented students, along with Josh, we have had here at Bellwood," said Trostle.  "His graduating class was truly one of the most unique and nicest graduating classes Bellwood has seen, but Nathan stood apart even from his exceptionally talented classmates.  He was bright beyond belief," Ms. Trostle said.
"Flash forward six or seven years and we're working together in LA. It boggles my mind that things actually worked out like that," Nathan said.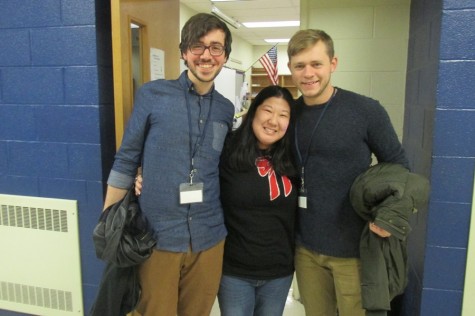 Nathan admits he has given up a lot to be working in the film industry, noting that he doesn't really have any time to go out and meet people outside of what he's working on. Nathan says that you actually have to be crazy to work in the industry.
"It takes a lot from you, and you have to be able to actually enjoy that aspect of it. You have to love what you're doing so much that you're fine with what you can't have because of it," he said.
According to Nathan, Bellwood had a huge impact on his work ethic. He said his parents are two of the hardest working people he's ever known, teaching him that "anything less than your best effort is just short changing yourself."
He feels that this positive mentality "echoes" through the entire community of Bellwood. Without it, he said, he isn't sure if he would have the motivation or drive to get through the hard parts.
"Hard work and pride in that work are important to everything. And that stands true with the film community in Pittsburgh as well, which I love dearly," he said. "There's also so much support at home. Every step of the way, it felt like an entire community was there being positive about this crazy idea I had about leaving little ol' Bellwood and making movies."
Although Nathan has made it far and accomplished many amazing things, he doesn't forget where he came from or the opportunities he was given. He understands he was in the right places at the right times.
"I think it's beyond important to always stay humble. There are millions of people more talented than me that just didn't have the good fortune I had or weren't in the right place at the right time. I make sure to try to never forget that," he said.
Nathan has gone from a small town boy to a movie maker in Los Angeles, coming a long way from where he was in high school.
Making it big doesn't have to be a dream. It becomes a reality when you have the mind-set of Nathan Larimer, who doesn't believe in "crazy dreams." In his opinion, "dreams are dreams, and with enough work and commitment, you can accomplish them."
Leave a Comment