Albright and Misera are two of The Music Man's leading ladies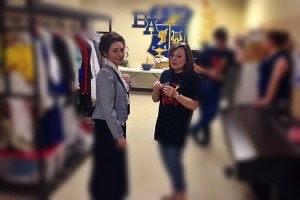 The musical The Music Man starts tonight and make no mistake: leading ladies Amanda Albright and Grace Misera are completely ready.
The two female leads are absolutely suited for this acting thing and they kind of love it and live it.
"It's pretty cool to get the chance to become a new person. With this particular musical, becoming Marian challenged me to go outside my comfort zone and try new things. In the end, you learn from your character," said Amanda.
"I love that I get to be someone else and I love losing myself in a show," said Grace.
Amanda plays the main female lead Marian Paroo, who is a librarian and music teacher. Grace plays Zaneeta Shinn, who is the mayor's eldest daughter whom Harold had set up with Tommy (Luke Hollingshead).
The two started acting at a young age.
"The first musical I participated in was Joseph back when I was in fifth grade," said Amanda. "I really enjoy being involved with it and realized I wanted to continue doing musicals. (Retired musical director) Mr. Bower also has a way of persuading you to do things.  It is really hard to say no to him."
Misera, whose family is entrenched in the theater community, sees acting almost as a way of life.
"I grew up with theater and it's the most fun when I'm on stage I've ever had in my life," said Grace.
With all the dancing and fun there is also a downside.
"My favorite part is dancing and being with my friends. I love that my parents are directing<" said Grace.  "My least favorite part is probably when people don't take the show seriously when it is needed."
"
Everyone involved has so much talent and I'm so glad we are able to show the community what we are capable of.
— Amanda Albright
"I really enjoy working with all the other cast members. Everyone involved has so much talent and I'm so glad we are able to show the community what we are capable of," Amanda said. "The only downside is that amount of practice that is involved and having the huge responsibility of memorizing all your lines and music."
The challenge of acting is when you're doing it even when you don't connect with your character.
"I really don't connect with my character at all. Throughout the course of the musical, Marian is very prim and proper. There are also certain situations where you see her flirtatious side. Anyone who knows me could tell you I am not like that," Amanda said.
Amanda said the audience will be in for a surprise.
"My character, Marian Paroo, starts out as being a very sophisticated librarian and music teacher who has no interest in finding love. As time goes on she starts to fall for Harold Hill after his numerous attempts at wooing her<" she said. "I think the audience will be a little skeptical about her in the beginning. But will eventually find they relate to her as she tries to find herself and her 'white knight'."
"I think the audience will love her because Zaneeta is sweet and cute. I definitely think they will be shocked with all the dancing Luke and I do. I'm really excited for them to see it," said Grace
The two are very grateful for getting their roles.
"I am honestly surprised I got the role in the first place. But I am thankful I was given the opportunity and only hope I can portray her respectfully," said Amanda.
"I enjoy it very much. Zaneeta is a very fun person to play," said Grace.
Leave a Comment