Crohn's and Colitis walk to be held at PNG Field
Nick Padula will be the honored hero
It's no secret that the Bellwood-Antis school district has never shied away from a chance to help our students or faculty. This time, however, there is a chance to help with a problem bigger than our town.
Crohn's and COlitis Foundation: Who We Are
The National Honor Society is searching for students willing to participate in a walk at PNG Field on October 10th to raise money and awareness for the Crohn's and Colitis foundation.
Mrs. Sally Padula, advisor for the Bellwood-Antis chapter of National Honor Society, is particularly supportive for the walk, because her son has suffered with Crohn's disease for the past nine years.
"
Nick will be the honored hero at this years walk."
— Sally Padula
"My son, Nick, was diagnosed in 2006 at 11 years old. He has had a feeding tube because his body wasn't gaining weight. At on time in high school, he weighed 73 pounds. He has yearly colonoscopies, takes a weekly shot, and has a portion of his small intestine removed."
She also added that, "Nick will be the honored hero at this years walk."
Mrs. Padula got involved with CCFA four years ago. "CCFA provides funding for research about Crohn's and Colitis and puts on a summer camp, Camp Oasis, for kids with Crohn's. I'm very happy that CCFA is raising awareness about these inflammatory bowel diseases."
Crohn's disease is a chronic inflammatory condition of the gastrointestinal tract. It belongs to a group of conditions known as Inflammatory Bowel Diseases (IBD), and was named after Dr. Burrill B. Crohn, who first described the disease in 1932.
"It has been hard on the whole family. When Nick was first diagnosed, my husband and I missed a lot of work to take him to the Children's Hospital in Pittsburgh for appointments or procedures"
Symptoms of Crohn's disease range from stomach pain and cramps to fever, weight loss, and fatigue. On average there are about 700,000 Americans who suffer from Crohn's disease. While it affects men and women equally, Crohn's disease is more common young adults, usually from ages 15 to 35.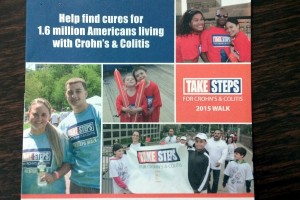 The Crohn's walk will be filled with live music, food, and kid's entertainment. If you are interested in registering for the walk on October 10th, follow the link to sign up or talk to Mrs. Padula. If you do register online, be sure to join team Padula's. Panthers. Anyone who raises $100 or more will receive a TakeSteps T-shirt.