Featured Alumni: Laura Cherry
Bright young entrepreneur has opened a barber shop on Main Street
Men, are you in need of a haircut? A little trim of the mustache or side burns?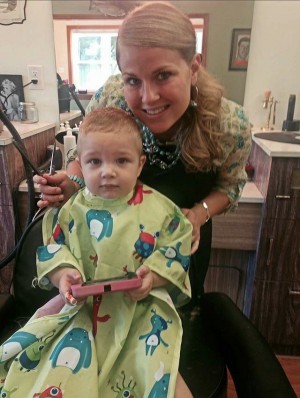 If so, there is a new local place for you: L.A.C. Main Street Barbershop.
The new (not so new) barbershop is owned by B-A graduate Laura Cherry.
Laura graduated from Bellwood- Antis High School in 2011, and even as a high school student she worked at a salon as a shampoo girl for two years. Later she moved to Harrisburg to attend a barber styling institute.
"Right after that I went to work in State College at a barbershop that had been there since 1968. I worked there for almost four years before I left in April to start my own shop," Laura said.
Ever since she was little Laura has had a love for styling hair and a vision of being an entrepreneur.
"Since I was eight I knew that I wanted to do. I wanted to have my own business because my dad has his own business, and I always knew that I wanted to do that also," she said.
What led Laura into doing men's hair was being offered her job at the State College shop before she ever went to further her education.
"The owner was my dad's barber at the time and she knew I was working at the salon, so she offered me a job. That's what led me to the barber business," she said.
Owning your own business can be hard, especially when you're young, but Laura seems to have a good grip on what she wants and how to take a chance at doing what you love.
"I feel that it is an accomplishment to be doing this now," she said. "I never thought I'd do it this young and it's really exciting. I'm excited to be able to expand and do more things in the future because this is just the beginning.
"My biggest struggle is the fear of not being successful and leaving my last job because I had a set job there, but this was my dream and I've made it happen."
"
It's better to try and fail than to have never known."
— Laura Cherry
Tips that Laura has for young entrepreneurs is to simply take the plunge and do it. Take the chance because you never know.
"It's better to try and fail than to have never known," Laura said. "You should stick to your dreams never let anyone tell you can't do it.".
Laura's favorite part about working as a barber and owning a shop is the fact that it is different from most people who have a cosmetology license.
"I like the shaving, and the old school history that barbering has, and it makes it really interesting and timeless," she said.
Laura said she has especially enjoyed moving back to Bellwood and opening her business in a community where people are helping and welcoming towards the new businesses.
"It's really fun that you get to have a personal connection between both barber and costumer," she said. "I learn a lot about life from the people, and a lot about the community. It's great to be back. I love being part of the community."
So men next time you are in need of a cut, stop by L.A.C. Main Street Barber!