Athlete of the Week: Karson Swogger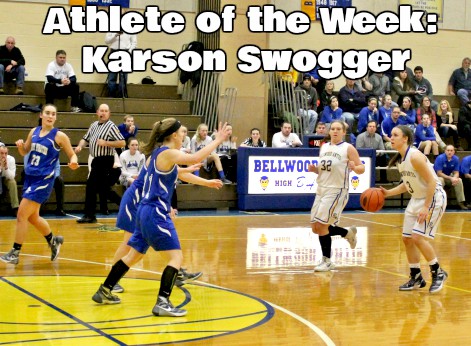 Karson Swogger is well known around Bellwood and Blair County.
Swogger banked her 1,000 point during her first game this year and is on her way to becoming the school's all-time leading scorer in just her junior season.
Swogger is a hard name to live up to on the court but Karson does it well.
Last Monday she had a school-record of 42 points in the 77-69 double-OT win over Tyrone at the Pink game. She has broken the school record three times this season.
In the first week back from Christmas break Swogger had games of 36 and 32 points before going off on Tyrone.
She's averaging 29 points, four rebounds, four assists and six steals per game.
The Lady Blue Devils play home this Friday against Glendale @ 7:30.
BluePrint: How did you get involved with basketball?
Through my grandfather, Coach Swogger.
BluePrint: What position do you play?
Point guard.
BluePrint: What's your favorite thing about the sport?
I get to spend a lot of time with my friends.
BluePrint: How do you plan to improve from last season as an individual? As a team?
There is always room for improvement in every part of my game. As a team, we have to have some younger players step up and fill the positions we lost from our seniors last year.
BluePrint: What aspect of your game did you work on most in the off-season?
I tried to work on everything to make myself an all-around better player.
BluePrint: What was the main problem in your loss last week to Bishop Guilfoyle?
Our effort was there, but we have to keep our focus up and not make silly mistakes.
BluePrint: How do you predict the rest of your season will go?
We are getting better every game. I believe if that continues we will keep on winning.
Leave a Comment