B-A senior fights battle with cancer alongside friend
Alexis Kensinger, close friend of Myers student Maddie Shura, was recently diagnosed with thyroid cancer
The battle with cancer Myers second grader Maddie Shura has fought for the last year has touched many members of the Bellwood-Antis community, but none more than senior cheer captain Alexis Kensinger.
Maddie and Alexis formed a special bond even before Maddie's diagnosis. During any football or basketball games where Maddie made an appearance, she would be seen attached at the hip to Alexis, cheering her heart out.
However, in a twist of irony, Alexis was herself diagnosed with Thyroid cancer in January.
Head cheerleading coach and aunt of Maddie Shura, Chrissy Shura talked about the pair's bond.
"Their relationship is very sweet!" she said. "Maddie looks up to Alexis so much and just adores her.  I think the same goes for Alexis. Their relationship has been such a blessing for Maddie.  She gets so excited and counts down to when she gets to see Alexis.  I think Alexis might do the same thing.
"Every time they are together it melts your heart because Maddie is so happy and always so excited to see Alexis.  Alexis is so good with Maddie and would do anything for her."
Shura also thinks that their relationship will help Alexis through her situation.
"I believe that Alexis sees how brave Maddie is through everything and she will use that to kick cancers butt," she said. "I truly believe that God brought those two together for a reason and we are just now finding out what that reason is."
"
Just like I'm there for her everyone has been there for me. It helps a lot; it really does.
— Alexis Kensinger
Jodi Kensinger, Alexis's mother, expressed her initial concerns when she and Alexis first heard of Alexis's tests coming back malignant.
She said, "My initial thoughts were fear and hopelessness.  The word 'cancer' is something no parent want to ever hear."
Alexis had surgery to remove her thyroid on February 20. Heading into surgery Alexis continued to present a similar optimism of that to Maddie. She said people have reached out to her and her family since news about her condition was announced.
"Me just being there for Maddie and everybody being there to help her and pray for her just makes me feel like – from all of the things I've gotten so far … people bought me presents, sent me texts, all kinds of stuff – that we live in a pretty cool place," she said. "Just like I'm there for her everyone has been there for me. It helps a lot; it really does. We live in a pretty  cool community."
Shura agreed that the support has been helpful to both Maddie and Alexis.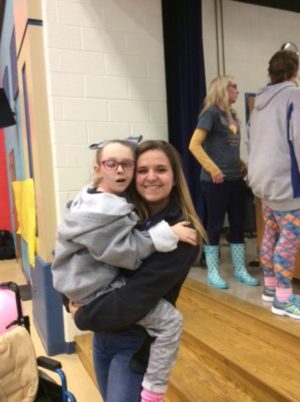 "Our community and school district has been absolutely amazing in the way that it has come together to support Maddie and the entire family," she continued. "The relationship that Maddie and Alexis have is well known in the community, and I know that everybody will support Alexis and her family in her fight too."
As the head cheerleading coach, Chrissy has consistently allowed opportunities for Maddie to cheer alongside the varsity squad. Chrissy expressed how thankful she is to the squad for not only supporting Maddie, but also putting  aside their own personal interests to provide Maddie with a great experience.
"These seniors gave up stunting on Senior Night so that Maddie could cheer with them," she said. "The squad this year has been amazing and I'm so proud to be their coach.  Maddie has taught them so much about compassion and learning, that there are more important things in life."
Chrissy believes that the compassion of the girls will continue as Alexis faced surgery last Monday.
"I know that they will be there for Alexis the same way they have been there for Maddie," she stated. "These girls are part of my family and when one is hurting we all are.  We are an amazing support system for each other and we will get through this together."
Jodi continued to express how amazing the community has been in the time since the family got word of the results. Even people outside of PA have reached out to show support.
"People have truly been wonderful with their concerns, whether it be through phone calls, texts, DM and cards, and ones putting her on their church's prayer list," she said. "We even got a letter from a church in Florida that has her on their prayer group.  We don't know who they are or how they found out but they are praying.
Jodi also recognized the positive manner with which Alexis has handled her diagnosis.
"Alexis is doing amazing with everything going on.  At the first visit when we were told she had cancer her immediate response was 'I will beat this.' She has a very positive attitude and has faith that God will heal her," she said.
Aware that her situation differs from Maddie's, Alexis knows the benefits of staying positive in a grim circumstance.
"I know we have two completely different things, but seeing how bad hers is, it just makes me think God forbid what if that were to happen to me?" Alexis said. "But I always told myself I would do anything just to take her cancer away from her. I didn't really mean it like this. I know I'm not going to get that bad and seeing her with what she has I just wish she would have something like I have and it would just be easy to take care of."