FCA making one last push for cereal drive
There is one week left in the annual FCA cereal drive. Already, the group has collected 581 boxes throughout the school district.
The high school has brought in 143 boxes, the middle school donated 54 boxes, and the Myers Elementary school is in the lead with 384 boxes.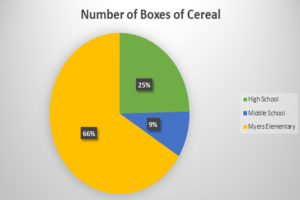 All of the boxes will be donated to the Saint Vincent DePaul Food Pantry in Altoona, PA.
"We are doing alright with our donations, but we would like to make one more big push the last week," said adviser Mr. Nick Lovrich. "Every little bit helps, and if half the people in our school would bring in one box we would double our total right now."
Last year, FCA managed to collect and donate 878 boxes of cereal. Mr Lovrich said that he wishes everyone would participate in this cereal drive so they can exceed last year's goal.
"Last week I bought cereal for less than $2 a box, and that's just a little more than a pack of gum," said Mr. Lovrich. "You could feed a family of four for two breakfasts with that $2. Please make that trip to the grocery store this week and help us in our cereal drive."