BMOC: Alli Campbell
B-A sophomore is one of the top basketball recruits in the nation, and she's loving every minute of it
Bellwood-Antis sophomore Alli Campbell is surrounded by numbers. 21: her number on the Lady Blue Devil basketball team; 521: her points total for the basketball team last season; and her height, at 6'0", give away some of her characteristics on the basketball court.
But there is one number, 25, that tells more than all of that.
Twenty-five is the number of NCAA Division I colleges to offer Alli a scholarship to attend their school and be a part of their basketball program – all expenses paid. Among those schools are a few ringers: Penn State, under charismatic head coach Coquese Washington; Syracuse, which went to the Final Four two seasons ago. The University of South Carolina, which won the NCAA championship last year, also has demonstrated an interest in Alli and offered her recently. Other schools throughout the B1G Conference like Indiana and Michigan have also made offers, as have college basketball dynamos like Villanova and Boston College. 
Oh and did we mention she's only a sophomore?
There are no recorded statistics that show the number of athletic scholarships offered to students of Bellwood-Antis, but one would wager that Alli ranks at the top position in this category.
However, her statistics in this season and the last show her worth in the Bellwood-Antis girls basketball program. This season Alli has averaged 25.4 points per game and has four double doubles for the 9-1 Lady Blue Devils. Last year she averaged 17.6 points per game while helping to lead B-A to the Pennsylvania 2A final four.
Though raw talent, and height for that matter, probably play a big role in the schools that recruit her, Alli's work ethic is one characteristic that stands out from the crowd. Her coach, Jim Swaney agrees.
"
It's definitely been pretty crazy so far, but I've enjoyed every bit of it and wouldn't have it any other way."
— Alli Campbell
"Alli is one of the hardest working kids I have ever coached.  She spends a lot of time working on her game and it shows," Swaney said.
Alli, in accumulation with her hard work, has always made it her dream to be recognized and recruited nationwide. She is currently rated the No. 19 sophomore in the country by ESPN's HoopGurlz Recruiting Rankings, and she is the No. 8 sophomore point guard.
"This has been a goal of mine for a long time," Alli claimed with a grin.
And it's understandable why this would be a goal for Alli. According to the NCAA, roughly four percent of high schoolers playing girls basketball go to play Division I basketball. It's also worth noting that playing in the Inter-County Conference and in a rural area in general would only make that percentage smaller.
That's not to say it's impossible to land a Division I scholarship coming from the town of Bellwood. Karson Swogger, just last year was recruited by St. Francis University in Loretto, Pennsylvania. Before Swogger, Brian Leap (Class of 2011) was a B1G triple jump champion at Penn State in 2016, the same season Chad Luensmann (Class of 2015) was named the B1G Freshman of the Year playing at Nebraska. However, Bellwood-Antis' list of Division I athletes has been thin.
Alli has also gained national exposure via her AAU travel teams. Up until this season, Alli, along with fellow Bellwood-Antis sophomore Sakeria Haralson, played on the Central PA Dynamite, where they would play teams from across the country. This season Alli plans to join the Philadelphia Belles program, an academy that has produced WNBA draft picks and a multitude of college stars.
A recognizable travel team and Swogger's influence have undoubtedly been a help for Alli, although she cites coaches as being the most influential.
"My coaches have helped a lot with this process from relaying messages from college coaches to giving me pointers on many things," Alli said.
Despite this, Alli maintains that she has yet to have any fears when it comes to the recruitment process, and that instead it is a very enjoyable affair.
"It's definitely been pretty crazy so far, but I've enjoyed every bit of it and wouldn't have it any other way," the sophomore professed. 
Coach Swaney also sees the excitement of the process, albeit from a more experienced standpoint.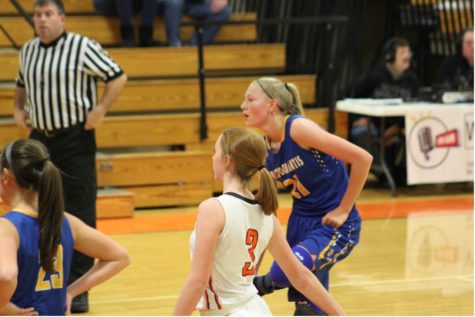 "I have been blessed to be involved in quite a few players and their college choices over the years, but with that said I have never seen anything close to the level of interest that Alli is getting," Swaney said.
And with this ongoing interest comes Alli's favorite part of her recruitment – the college visits.
"My favorite part has been getting to meet so many new people and visiting great schools," Alli maintained.
And this, the option to basically go to whatever school she choses, is what makes every ounce of sweat, blood, and tears  justified.
"It makes all the early morning workouts and missing things with friends worth it. There's lots of sacrifices but it's all worth it. I'm really excited to play at a high level in college," said Alli.