BMOC: Jenna Bartlett
B-A senior runner is yet to lose a race this season
Jenna Bartlett is in the midst of a very impressive cross country season. She has yet to lose and she set a personal record with a time of 21:40.
"My off season training comes mostly from my dad. He has coached me in running since I started," said Jenna.  "This summer in particular I wanted to incorporate more strength training to get better at cross country."
She went to Dorman's Sports Performance 3 days a week all summer, as well as doing more speed training on the track, including 400's,800's, and 1600 repeats.
Jenna first got into running because it is a passion her whole family shares. Her brothers were excellent runners as well. Her older brother Kyle holds the school record for the 3200 with a time of 9:52, while her father Jeff has run the Boston marathon for the last few years, as well as the Erie, Pittsburgh, Poconos, and Harrisburg marathons. She ran her first 5k in 7th grade and hasn't stopped since.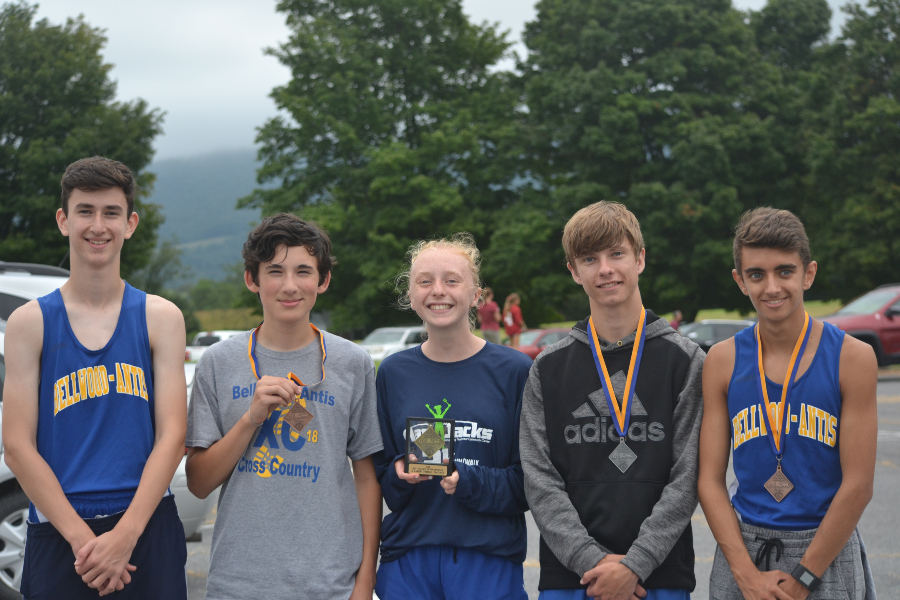 Jenna has yet to run a full marathon, but she has completed two half marathons, which she loved. One of her favorite runs with her dad is a 16-mile run up a big mountain in Tyrone. They start at their house then run down 220 to Tyrone, all the way past Reservoir Park, and then up Janesville Pike. It is 8 miles there and 8 miles back. Even though she is very tired after it she said she still enjoys it. They also do 11-mile runs in the cold. They usually stop at Rossi's before they finish because their hands get cold.
" I love running with my dad, now that I am good enough to keep up with him," said Jenna.
"
his summer in particular I wanted to incorporate more strength training to get better at cross country.
— Jenna Bartlett
During her time in cross country, Jenna has grown not only as an athlete but as a leader, according to cross country manager Mrs. Rhonda Mills.
"Aside from being impressed with the hard work Jenna put in on her own before the season to be ready physically, the coaches are really pleased with the leader Jenna has become for the girls' team this year," she said.  "She has done a wonderful job of encouraging and supporting the other girls.  She has really stepped up in her fourth year."
She also has more motivation to succeed this year because she is planning to run cross country in college. She is planning on going to Clarion or Shippensburg. She likes both campuses, as well as the programs and the coaches. Each college has her preferred major of Exercise Science/Nutrition and fitness too. She has not made a decision yet, but narrowed to down to those two.