FEATURED ALUMNI: Josh Kleinfelter
Record-setting back plans a return to Bellwood in a special kind of homecoming
Josh Kleinfelter made a name for himself on the Bellwood-Antis gridiron, and because of the opportunities that have come from that, he could go just about anywhere he wants.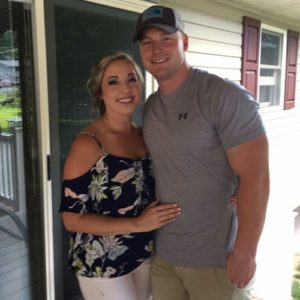 His football career took him to Lycoming, and with a degree in criminology the world is his oyster.
However, the one-time rushing star says he wants to spend his life in the community that made him famous.
"After being out of the area for a few years, I knew that Bellwood was a place I would call 'home'," said Kleinfelter.  "The community takes pride in its values.  I want to raise a family within the same community environment that I was raised. I am proud of my education and achievements at Bellwood."
By the end of his junior year, Kleinfelter's talent on the football field was the talk of the town. When his senior season was finally done, he had become the most prolific back in B-A football history, posting a pair of 2,000-yard seasons.
He was All-State  in '05 and '06; he ran for 79 career touchdowns and a total of 5,934 yards. Kleinfelter shattered practically every offensive record there is at B-A, including total offense for single game, season and career, and single-season records for scoring, rushing, and touchdowns.
A member of the class of 2007, Kleinfelter brought the Blue Devils a great deal of success in his three years on the varsity team. In that time, the Blue Devils won several ICC championships, acquired not one, but two district titles, and topped it off by making the PIAA Final Four Kleinfelter's senior year.
Now eleven years later, Kleinfelter's has traded chasing rushing records for chasing bandits, and he probably isn't the police officer a criminal would want to run from.
Assistant varsity Nick Lovrich can attest.
"If we needed a tough yard, he always got it.  He had a good combination of speed and power so he could run between the tackles or break a long run to the outside," said Mr. Lovrich.
"
I want to raise a family within the same community environment that I was raised.
— Josh Kleinfelter
After he graduated from B-A, Josh attended Lycoming College in Williamsport and continued his football career. Once again, he was a record-setter. He finished second all-time in rushing for the Warriors with over 3,000 yards, and he is one of only two backs from Lycoming to run for 200 yards three times. He earned Middle Atlantic Conference Player of the Week five times, also a school record.
"I had to adjust to a new environment and advanced level of competition," said Kleinfelter.  "I had to balance a demanding academic schedule and time spent preparing for games."
With the conclusion of Kleinfelter's athletic career came the genesis of his career with the State Police. Before entering the PSP, he was employed for two years at Extended Family Programs, which is an alternative placement focusing on behavioral support. He would then go on to pursue the Police Academy.
"I attended the State Police Academy in Hershey, where I went through rigorous training that lasted approximately 27 weeks. During that time, I received extensive weapons training, traffic enforcement and criminal investigation. I graduated from the academy in May of 2015," said Kleinfelter.
Upon graduation, Kleinfelter was stationed at PSP Newport located in Perry County, where he would stay roughly one year before transferring to Huntingdon. He is currently in his second year there, just a short drive south east of his hometown.
In Kleinfelter's time at B-A he left a lasting impact on those who knew him then and still know him today. It's an impact that could extend further once his dream of returning to his community becomes a reality. He and his wife Chelsea (Lechner), Class of 2005, are planning to begin building their new home in the Bellwood-Antis School District this spring.
"I think the thing that I remember most about him was how hard of a worker he was and how humble he was," said Coach Lovrich. "With all the success he had here, he could have been so cocky, but he was so down to earth and was quick to credit his teammates for his success.  He truly bought into the team concept of football and was totally committed to doing whatever it took for our team to be successful.  He was definitely one of those athletes that you loved to coach because of how hard he worked and the level of commitment he had to being successful."
Coach John Hayes referred to Kleinfelter as "a coaches dream," saying, "He worked extremely hard, he gave his everything. He took that from Bellwood and he did the same thing at Lycoming. His dream was to become a state policeman..for that he had to work hard and be patient and those were both attributes he demonstrated as a student-athlete. He has tremendous leadership capabilities, he's individually strong, and those are things that will make him a great Pennsylvania State Policeman and a wonderful citizen. He's the kind of person you want on your team."