FEATURED ALUMNI: Cory DeArmitt
It's no surprise when Bellwood-Antis students rise to their calling and chase their dreams after graduation.
Some may say the sky is the limit, but Cory DeArmitt, would beg to differ. Cory chased after his dream of becoming a pilot, and that's what makes him the most recent featured alumni.
Cory, B-A Class of 2007, was your average Bellwoodian. The youngest of three boys, Cory played baseball and basketball during his high school career. Following his graduation Cory joined the US Army, where he served just over six years as an infantryman in the 82nd Airborne Division, during which time he deployed to both Iraq and Afghanistan.
His passion for flying forever, began at a young age.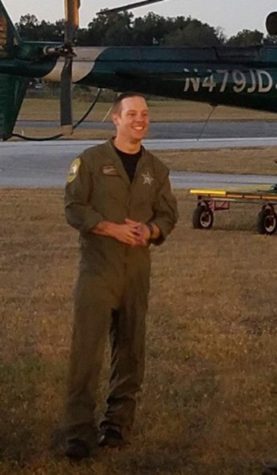 "I was always infatuated with helicopters and wanted to be a pilot from about the age of 5," Cory said.
It was after the completion of Cory's military career that the dream to become a pilot began to truly takeoff.
"I graduated Southern Utah University with an associate's degree, where I had to do all general ed. classes, and then all the core classes for Aviation, such as Aviation law, aerodynamics, Weather theory/meteorology, aircraft systems, and aeromedical factors," he said.
Cory now serves as helicopter pilot for the Citrus County Sheriff's Office in Florida where his job is very versatile.
"We service the county for Law Enforcement operations like car pursuits, fleeing subjects, and surveillance for investigations; Search and Rescue operations like missing persons, overdue boaters, and any other aspect of SAR; and lastly we also do Fire Fighting operations," Cory explained.
He went on to say that his work is something different every day, and is glad that so much of his work helps his community.
"The best part of my job is that I am living a lifelong dream of mine of flying helicopters," said Cory, "and I get to do it in the capacity of helping others which makes it very rewarding."
Cory's sky high success in his career path comes back to the simple things he learned in the hallowed halls of B-A.
"I would say that my time in high school helped me learn to accept responsibility for your life, it is you who will get you where you want to go, no one else. Once I accepted that, I knew that wanting something is not enough. You must hunger for it," said Cory. "Your motivation must be absolutely compelling in order to overcome the obstacles that will invariably come your way. Lastly, once you achieve goals you have set for yourself, make new ones.  Always continue to better yourself, never become stale."