Stars of Annie Anxious to Get Started
Every play has its stars.  These are the people that will get the most recognition and have the most lines to memorize.  Being the star of a play seems to be very stressful, but it is probably fun too.
It's no different for this year's cast of Annie.
The big stars of the play this year are Casey Gray, Grace Misera, Alayna Roberts, Katelyn Shaulis, Mara Lundberg and Owen Worthing.
Some of them feel a lot of pressure since they are the stars.  Mara and Katelyn said that they have to memorize a lot and that puts a lot of pressure on them.  Alayna is very nervous because it is her first big part.
However, Owen doesn't feel any pressure at all. He said, "Each and every role is important, so I don't feel any more pressure than anyone else.  I'm used to having a large role."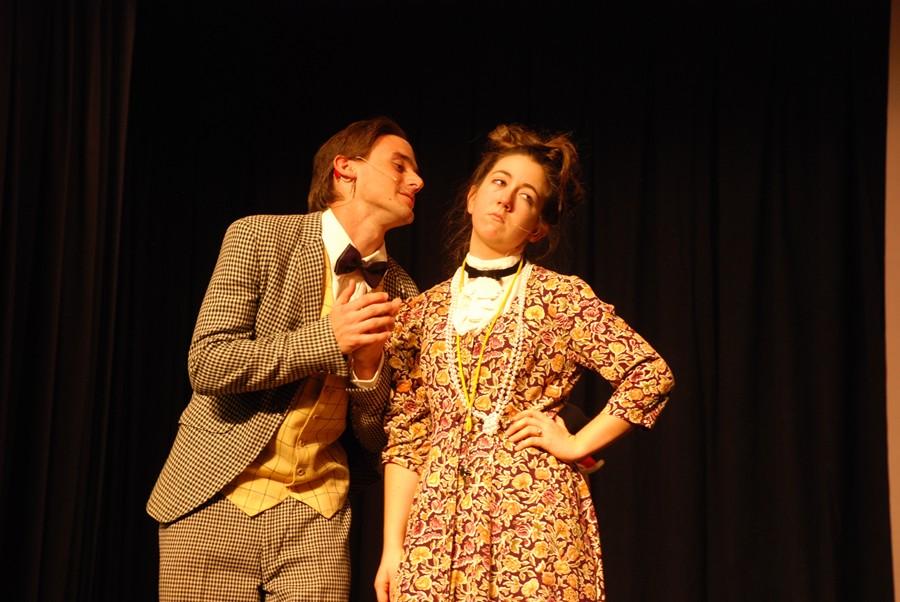 Grace, a freshman, is playing the lead of Annie.  Grace feels proud to be in Mr. Bower's last show.  She said, "I'm glad I get to work with him on his last year.  I have much appreciation for that man."
She also feels some pressure.  She said, "I feel pressure to do well and to always be where I'm supposed to be and to be a good example for the orphans (played by younger cast members).  But the show wouldn't be anything without pressure."
With all eyes on her, she seems to be comforted.  She said, "It's comforting and it makes me give my best performance.  I totally feed off the audience whenever they're there so I kind of like it."
Casey, a senior, is playing Daddy Warbucks.  He feels pressure, but it doesn't bother him.  He said, "Pressure is what pushes me to work harder to be successful.  Sometimes it can be stressful to have so much attention, but it provides an opportunity to be an example for the younger kids."
Casey seems to enjoy all eyes on him.  He said, "All of the months of hard work pay off on opening night when there is finally an audience.  Entertaining people and seeing them react is my favorite part of being in musicals."
He seems more upset for the underclassmen than himself that this is Mr. Bower's last performance.  He said, "It's bittersweet.  I feel proud being a part of his last show, especially since I've been around him for such a long time, but I feel sad for the underclassmen that won't have the same opportunities and experiences in the coming years."
Mara is playing Grace Farrell.  Mara's character is very kind, caring, and loving towards Annie.
She said, "As a senior I feel very upset about performing in my last play. But I will hopefully perform in more plays outside of school."  She is both excited and upset about being a part of Mr. Bower's last play.
She added, "I am super excited and it is an honor. I'm very upset, though, because this is it." Mara said she will miss performing at Bellwood because she will miss Mr. Bower and her friends.
Katelyn Shaulis is playing Miss Hannigan. Katelyn's character is the owner of the orphanage and is pretty much a lunatic.  Her character is crazy, abusive, and wild – she is just an emotional roller coaster.
Katelyn is also a senior this year and he is sad that it is her last year. "It's really sad. I've enjoyed being in the productions all these years.  We've all become a big family and this place is like our home. I'll also miss Mr. Bower; he is becoming a father figure to me."
Katelyn also thinks being in Mr. Bower's last play is exciting. "His plays have always brought joy to the community, so it's fun to be able to contribute," she said.
Owen, a senior, is playing Rooster Hannigan.
He said, "It's a little upsetting knowing this is my last show here at Bellwood, but the great thing about theater is that you can do it your entire life." He also added, "I'll miss the atmosphere.  We have so much support from the school and area. Being in shows is a great way to form friendships."
Alayna Roberts, a junior, is playing Lily St. Regis. Alayna gets to wear a wig as Shirley and gets to be in the back of the big "NYC" music and dance scene.
Alayna is glad to be able to perform in the last play of Mr. Bower's career.  She said, "I'm glad I could be a part of it and help him go out with a good year.  I'm glad I got a chance to be in a musical he's directing."
Leave a Comment