The year-end review: Top 10 news stories
Summer has finally arrived! Classrooms are torn down and seniors have said goodbye to the place they have held so dear in their hearts the past four years.
In most classes, students tend to do some type of reflection, which is when students and teachers take time to remember their favorite moments throughout the busy school year. The B-A Blueprint has also had a busy and exciting year, and we have covered everything from middle school students of the week to worldwide national breaking headlines.
It's now our turn to do a little bit of year-end reflecting, so here's our staff-picked top ten news stories of the 2017-2018 school year!
10) Former B-A teacher takes part in Arizona Walkout
Ms. Emma Farrell student-taught English under the direction of Mr. Kerry Naylor during the 2013-2014 school year. Soon after student teaching at Bellwood-Antis, she moved to Arizona to teach there. However, the state of Arizona doesn't exactly have the most supportive government backing its teachers. This is why Ms. Farrell decided to participate in the #redfored teachers walkout, held from April 6 to May 3, 2018. With teachers in Arizona getting paid a whole lot less than teachers in other states, 20,000 students, parents, teachers, and supporters decided that it was time to march to the state capitol for a change.
9) The "National School Walkout Movement" impacts Bellwood-Antis High School 
We all remember the tragic event that occurred in Parkland, Florida this year. Seventeen students and teachers lost their lives as shooter Nikolas Cruz fired on campus with an AR-15 rifle. In response to this horrible tragedy, students on Twitter spoke up, and what started out as the idea of a few students turned into a national movement. All around the country, students decided that at 10:00 a.m. on March 14, they would walk out of their classes and leave their schools for 17 minutes in protest to bring awareness to gun violence in schools. While many students thought this was a good idea, teachers and administration at BAHS thought that it had the potential to be unsafe.
8) B-A Students receive over $66,000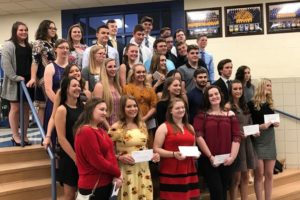 On May 14, the Class of 2018 won over $66,000 in multiple scholarships. The scholarships awarded included the big $5,000 Bruno DeGol, Sr. Memorial Scholarship, which went to Chris Wertman. The other scholarships given were five $250 scholarships, thirty-seven $500 scholarships, five $750 scholarships, thirteen $1000 scholarships, eight $1500 scholarships, one $1550 scholarship, two $1800 scholarships, and two $2500 scholarships.
This year's seniors have so much to look forward. I mean, they are graduating; how exciting is that?! However, not all of the senior's wishes came true. The one thing they had waited for since they were freshman was taken away from them this year: their beloved parking passes. For the 2017-2018 school year, the parking policy was updated. There used to be a seniority rule where passes were given to seniors. However, the 37 parking passes are now given out to anyone who wants one on a first come, first serve basis. Many seniors were unhappy about the changes and complained about the lack of space.
Coach Hayes has had an incredible career at Bellwood-Antis, both coaching the football team and being the Athletic Director. However, this year, Coach broke the heartbreaking news that he will be stepping down as both coach and athletic director. While people are sad that he won't be the coach, that doesn't mean he won't be around. Coach Hayes still plans on coming to all the games and will just cheer from the sidelines instead of on the field.
5) BluePrint writers earn Pa. Press Awards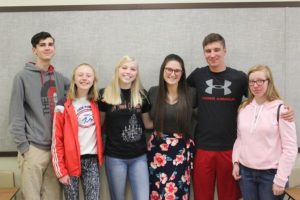 We as a newspaper have been blessed with another extremely successful year. Some of our writers and editors won Pa. Press Awards, other writers won Edinboro Awards, and a few were even able to win SNO Awards. Together, we have all been able to work as a team and win the award as the top online newspaper in the state through the Keystone Press Awards. You can read about all these stories by clicking the link above to read the Pa. Press Awards story, and then seeing the others under related stories.
Arguably, one of the best things about graduation is having all of your friends and family watch you walk across the field and receive your diploma. However, for the 2017-2018 graduating seniors, that wasn't the case. This year, the graduation ceremony was moved indoors, and it had nothing to do with rain. Due to the recent incidents that occurred dealing with logistics and safety, seniors received their diplomas in the auditorium. While it doesn't seem like that big of a deal, it limited the amount of people a single student can bring.
3) BASD hires security officer to patrol the district  
Jeffery Hanna, who graduated form Bellwood-Antis himself in 1979, will now be roaming the hallways again, not as a student, but as a security officer. He was approved at a board meeting this April to be a full-time security officer. According to Superintendent Dr. Tom McInroy, the reason Mr. Hanna was hired was to simply have the community come together to help keep each other safe. While there hasn't been one specific event that has caused the school to hire a security officer, people have noticed a dire need for more security.
2) Bellwood-Antis takes home the state title 
The Lady Blue Devils basketball team made Bellwood-Antis history when they played West Catholic at the Giant Center in Hershey and won the state championship, 45-42. Alli Campbell's 34 point led  the Blue Devils to victory. Coach Jim Swaney and Coach Kyley Longo are very proud of the girls for not only bringing home the gold that day, but for playing their hardest all season long.
1) Mini-THON exceeds all expectations  
The Bellwood-Antis Mini-THON committee had an original goal to raise $5,000 for Four Diamonds, which is a program that helps children who have been diagnosed with cancer. However, the people who donated towards THON not only met the $5,000 goal, they more than doubled it. The ending amount raised was $12, 490! During the actual Mini-THON event, there were many fun activities available, such as video games, half-court shot contests, multiple different prize raffles, and dinner  in cafeteria. Overall, the event was a huge success, and teachers are proud of the leadership shown by the THON committee to be able to put all of it together.