mini-THON exceeds all expectations
B-A community raises more than $12,000 for Four Diamonds and kids with cancer
Friday, March 5, marked Bellwood-Antis High School's first Mini-THON. The event was a success, having raised a total of $12,490!
All of the proceeds from Mini-THON will go to Four Diamonds, whose mission is to conquer childhood cancer by funding research and aiding childhood cancer patients and their families. Four Diamonds covers all of the medical costs not covered by insurance for these children. Due to its generous donors, Four Diamonds has been able to help all children in need at Penn State Children's Hospital.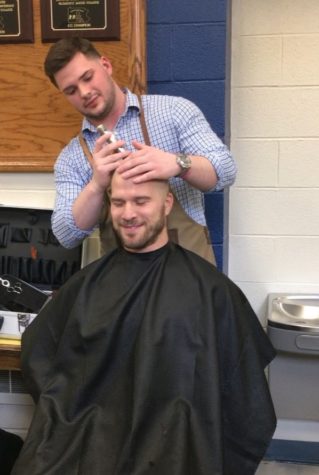 "It was crazy, a group of us were counting the money and we were blown away by how much we raised," said event organizer Mya Decker. "I'm beyond proud of my entire committee for making the event flow so seamlessly. Everything went way better than I even planned. The kids really stepped up."
"I definitely thought we would raise $5,000, but I never thought we would raise as much as we did," said student organizer  Gwen Dougherty. "I'm so happy the community came together like this."
Bellwood-Antis's Mini-THON featured plenty of fun activities. In the media center, for example, students could play various video games. In the gym, students could shoot half-court shots. A volleyball tournament pitting representatives from each grade against each other also took place in the gym. The high school cafeteria featured a raffle. Students were also served dinner in the cafeteria.
"I am so proud of our community and school for coming together like we did," said Brandie Ray, one of the committee leaders. "Everyone kept coming up to me after it and telling me how proud they were to belong to B-A. Our students and community are too great and compassionate for our total to not turn out the way it did. We really couldn't have done it without everyone's help."
"
I'm extremely impressed with our student leadership and the way in which they worked together to accomplish this task.
— Mr. Stewart
Students from Myers Elementary also got involved in Mini-THON. At the end of the school day, the children got the opportunity to participate in a lot of activities, like human sized hungry hippo, bean bag toss, and lots of fun games.
None of this would have been possible, however, without the hard work of the student committees.
"I'm extremely impressed with our student leadership and the way in which they worked together to accomplish this task," said Mr. Brandon Stewart, one of the organizers of Mini-THON. "It was great to see the community, student body, and faculty all come together in a positive way."
As for next year, THON adviser Mr. Matthew McNaul said he can't guarantee another THON event or a success like this year, but based on what he has seen he's not counting it out.
"It's yet to be decided but it's going to be hard to put the genie back in the bottle," he said.