FEATURED ALUMNI: Tyson Miller
Two-thousand fifteen Bellwood-Antis graduate Tyson Miller is studying at Slippery Rock as a member of the ROTC program. He has been very successful with his grades, physical training scores, and leadership.
Only two cadets ranked in the top 10% of the class and Tyson was one of them.
To hear your kid achieve something like this would be incredible.  Karen Miller, Tyson's mother who works in the B-A guidance office, expressed her emotions and put it into words after all her son's hard work paid off.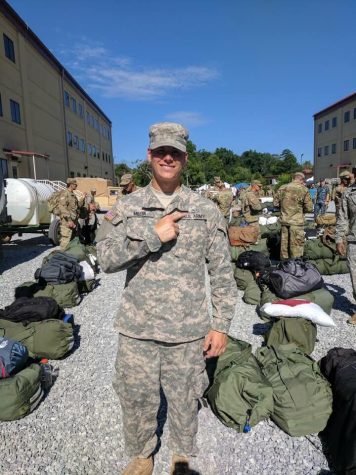 "In one word, proud!" she said. "When Tyson was awarded a 4-year ROTC scholarship, I really had no idea where this opportunity could take him.  He has gone above and beyond anything I would ever have imagined.  He set his goals his freshman year and continued to meet them or, in most cases, exceed them through making the dean's list every semester to being selected as Ranger challenge team captain to the numerous awards and scholarships he has received within the program."
It wasn't easy, but Tyson credited his small-town upbringing for much of his success.
"I can definitely thank the base laid for me from the community here in Bellwood.  All the success I had came from being a product of my environment here," he said.
A typical day for Tyson is waking up at 5 a.m. for physical training and finishing up around 7, then just getting ready and going to class whenever you would have it.After that he hits the gym and some sort of event or meeting for ROTC.  There's a lot of things that can change last second so Tyson has to be very flexible.
The other cadet that made it into the top 10% was a good friend of Tyson named Nick Appleby.
"Nick is one of my best friends. We met sophomore year and have hit it off since then," Tyson said.  "He's one of those dudes who I just clicked with immediately.  We're always hanging out inside or outside the ROTC stuff."
When fighting for positioning of cadets at SRU there was a lot of competitiveness between the two of them.
"It is extremely competitive.  We are always trying to one up each other," said Tyson.  "We feed off each other though. It isn't anything but good healthy competition, never any animosity or anything like that.  It helps you stay sharp to have someone like that."
Being in the top 10% Tyson was more of a leader than most to the other guys at SRU.  He was captain of the Ranger Challenge team the past two years, and that gave him a lot of leadership reps, while defining his leadership style and getting him used to being in charge.
Tyson has been killing it at Slippery Rock but what is next for him?
"
I can definitely thank the base laid for me from the community here in Bellwood.  All the success I had came from being a product of my environment here.
— Tyson Miller
"Next for me is fort Benning, Georgia for the Infantry basic officer's leaders course then upon completion of that, Ranger school.  Then hopefully to Fort Bragg but the Army will send me wherever they need me.  Can't wait for it."
His mom is looking forward to that day with a little hesitation.
"It will be tough on me and Trevor (Tyson's eleventh grade brother), as he will be much further away for a longer period of time.  But we will always support him and continue to be so proud of his drive and desire to protect and support his country," said Karen.