FCA Cereal Drive kicks off
The Bellwood-Antis Fellowship of Christian Athletes  is gearing up its annual cereal drive for 2020.
Last year the B-A FCA donated 650 boxes to St. Vincent De Paul Food Pantry in Altoona.
Bellwood students participate in the annual tradition, and it has been a huge success across the school community. There will be an announcement and collecting will start Thursday and run till the 28th of February.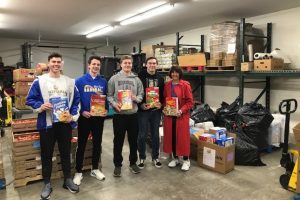 FCA vice-president Trevor Miller said, "It's a great charity we are doing for the Bellwood community and it also shows a little competition between the homerooms."
In 2015 students set a record breaking 1,517 boxes setting the bar high for future students at B-A. Coach Nick Lovrich, the FCA adviser, and the students this year have set their goals higher than last year.
FCA president Alex Roberts said, "The cereal drive has always been one of our biggest events for the FCA. With the friendly competition between students and even teachers, it's awesome to see everyone so eager to donate. If everyone participates, we can easily beat last years record, if not more."
Mr. Lovrich said, "There are people in and around our area are less fortunate, the St. Vincent De Paul Food Pantry helps them out through looking for help and donations. I think it is important that we do this for our community."