FEATURED ALUMNI: Emily Nagle
Not everyone gets to do what they love, but if you work hard enough your goals can become a reality.
Two-thousand fourteen Bellwood-Antis graduate and Slippery Rock alumni Emily Nagle is a perfect example of this, following her high school softball career with a full ride to The Rock on a softball scholarship.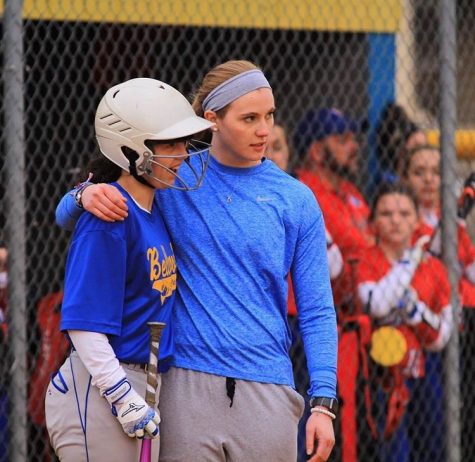 Now Nagle – Coach Em to the softball team – is back to make an impact on Bellwood once again.
Nagle became the assistant coach of B-A's junior high girls softball in January of 2019 after helping make B-A softball history in 2014.
"It's always a good thing when former players want to give back to the sport they played and love," said B-A varsity coach Jim Payne. "Emily is a great addition to our program, and we are super excited to build a program around her and Coach Bollinger's expertise."
In 2018 she graduated from Slippery Rock University, where she majored in Environmental Science.
Lucky enough she found a job in her career, and now works as an Environmental Scientist at Gwinn Dobson and Foreman Inc. 
As a little kid everyone dreams of playing a professional sport, but the dreams get faded away by reality. Nagle was one of those kids, but unlike the rest she  made it happen. The summer right out of college Emily played pro softball for  the American Softball Association (ASBA), but going pro isn't for everyone, so Nagle stopped to follow out her career goals.
Now, continuing her softball journey at Bellwood, her story makes a full circle back to where it all started. Her goals for herself are now passed on to her players.
"One thing I would love is for one of the players I have coached to get a scholarship,"said Nagle.
"
Being a coach, I still get to be a part of the game, minus the stress."
— Emily Nagle
Emily ripped it up at Slippery Rock as a starting center fielder, finishing second in school history in hits while finishing first in triples. She made first team All-PSAC West two times.
She began her journey as a coach to stay involved with the game that she fell in love with, but without the frustration.
"When you strike out or go 0-for-3, it's the worst feeling ever," she said. "Being a coach, I still get to be a part of the game, minus the stress."
Nagle has worked hard all her life. In high school she was in National Honors Society and put in the work on and off the field. She finished her career with over 100 hits and led the team to its first District 6 championship her senior season.
'Emily was a great player and a better person," said Coach Payne. "She is a great role model for these kids."
Now, she is a busy woman with a lot on her plate, trying to juggle a full time job, coaching softball at B-A, and coaching personal lessons at ERA in Altoona. Still, Nagle makes it happen and is enjoying every moment of it, with no plans to stop.
Leave a Comment