FEATURED ALUMNI: Nathan Davis
Kind, caring, friendly, and basketball star are probably some of the words that come to your mind when you think of Nathan Davis. One of the most well-known Bellwood-Antis grads, Nathan has been living the dream since he left for college in 2016. 
Nathan recently completed a successful senior season as a scoring leader at Seton Hill in Greensburg.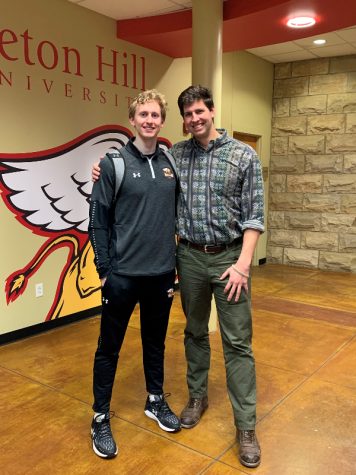 Ever since he was a young boy, Nathan has been dedicated to basketball. It is his true passion. He works hard, practices everyday, works on his layups, free throws, and never gives up.
Nathan was team-leader in scoring for the Griffins this season with 501 points. He was also the team-leader in rebounds with 142, and steals with 21. He scored 1,700 points in his career.
Nathan studies Spanish Education for his major in college, and has always been interested in languages, but being able to communicate with other people is important to him. Plus, Spanish is more and more relevant today. 
During high school, Nathan was involved in Key Club, FCA, basketball, and the National Honors Society. He was also Vice President of his graduating class. Nathan was an award winning writer for the BluePrint during his senior year, when he also surpassed the 2,000-point plateau on the court to become B-A's all-time leading scorer. 
Of course, Nathan has had many accomplishments over the years, but during college he was the second leading scorer in program history, second team PSAC, and the PSAC Winter Top 10 Award Winner. Just recently, he was selected to the ALL-PSAC Western Division, and was named to the CoSIDA Academic All American Team. Even though Davis had many colleges offer him to play basketball, he chose Seton Hill because it is close enough to home, has a strong academic rep, and obviously because big brother Noah went there. 
As it is for anyone, college has struggles, but Nathan pushed through them when times were rough. 
"I didn't get to win as much as I would have liked to this season, and I missed my cat Whiskers a ton when I was at school. She has been with me through the entire journey!" he said.
Nathan isn't ruling out grad school as an option to continue his studies, but he hopes to receive the Fulbright Scholarship, a teaching grant that will allow him to teach children English in Spain. He will be hearing about the grant in May.
Does this mean he has to give up basketball? Not at all. He probably wouldn't be able to do both at the same time, but if he does land a basketball contract, that will be his number one priority and take precedence. However, if he is awarded the Fulbright, there is a chance that he could try out for different teams for the following season while he is in Spain.
Recently, Nathan decided to sign with an agency that only signed four other players. This agency will do their best to represent him and also sponsor a few exposure opportunities this summer. 
This year, he was lucky to do student teaching at Greensburg-Salem High School to ripen his abilities as an educator someday. He also went to Spain at the end of his Freshman year to study abroad. 
"It was a life changing experience to be enriched in another culture. It really helped my passion for the language," said Nathan.
College was everything he expected it to be, and maybe even more, he said.
"I've found out a lot about myself as a student, athlete, and person in general. There have been so many memorable experiences that I will draw from later on in life," said Nathan.
Nathan said he hopes that everyone is doing well back at Bellwood, and even though he will graduate a Griffin, he will always bleed blue and gold. 
Whatever path he chooses – whether it's grad school, studying abroad or basketball, he will excel.