FEATURED ALUMNI: Chris McCartney
Chris McCartney is a football legend in Bellwood. 
A member of B-A's first District 6 championship team in 1988, McCartney was selected to play in the Big 33 game in 1991, and played in the NCAA Division II national championship game in 1993 for IUP.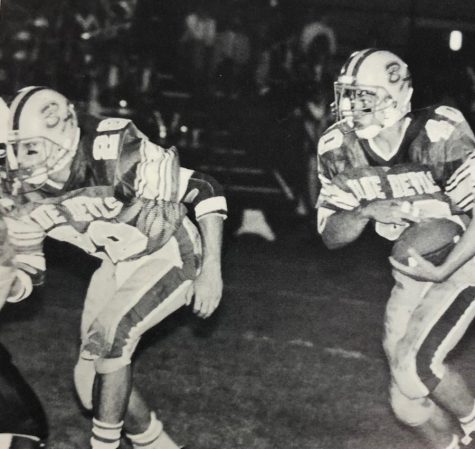 When McCartney graduated from Bellwood-Antis in 1991, he did so as the school's all-time rushing leader with more than 3,00 yards to go along with 44 career touchdowns. His totals wouldn't be touched for 15 years, and his name still figures in the Bellwood-Antis football record book to this day.
Despite all of his accomplishments on the field, McCartney has also been a very successful football coach, and after 25 years of coaching, he is taking a step down. McCartney coached his final game for the West Antis Packers of the Bellwood-Antis Youth Football League last week. His team won the championship.
McCartney's coaching career began in 1995 when he started coaching the Southside Vikings. With Southside, he won his first three championships as a coach from 1995-1997. 
From Southside, he went on to coach at Tyrone from 1997-2000, a member of the junior high staff when the Eagles won the PIAA championship in 1999, and then at his alma mater from 2001-2002. 
Football is very important to McCartney, but even more than football, his family comes close to his heart. After the 2002 season, McCartney took a break from coaching because his daughter, Caitlyn, was born. Five years later came a son, Alex. Despite taking this break from coaching while his kids were born, he instilled a love for the game in his children. 
"Ever since I was little, I can remember my dad having a love for the game and that really rubbed off on me and Alex. For the past few years, our lives have consisted of football practices and games," said Caitlyn. "It was cool being able to cheer while my dad was the coach and then watching my brother play for him. Football was just something that our family spent time doing. Even outside of BAYFL, we all love to watch the Chicago Bears together. My dad has taken Alex and I to games in Chicago and it's just a really fun way to spend time together and it really bonds us."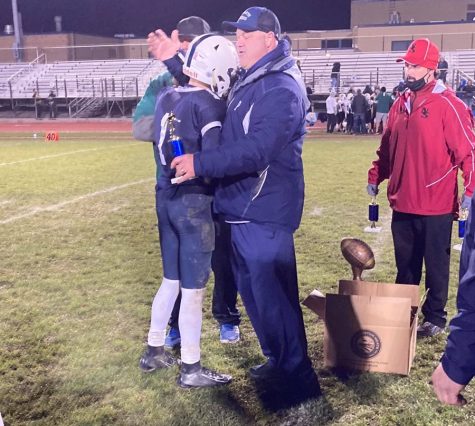 When Caitlyn started cheering for the West Antis Packers in 2011, Chris knew it was time to get back into coaching. In 2011 and 2012, he coached West Antis's B team and they won back to back championships. After that, he moved up to West Antis's A team to coach and won three more back to back to back championships from 2013-2015. That made it five consecutive championships. 
Zach Mallon, B-A's current star tailback and a former West Antis player for McCartney, said, "Playing for Chris throughout my years of BAYFL really meant a lot to me. He helped grow my love for the game and helped me become the player that I am today. He has definitely been my most influential coach and I have learned so much from him, even past my years on West Antis. Playing for such a great coach when I was younger was a really big honor and I still hold our relationship close to me." 
McCartney's Packers also won the BAYFL championship in 2018 and 2019. However, these past three championship seasons probably mean more than others because he was coaching his son, Alex. 
"Coaching Alex is one of the greatest things I have had the opportunity to do as a coach. Watching him develop into a football player has been really enjoyable," explained McCartney, who continues to serve B-A as a member of the school board.
Being coached by your dad is not always the easiest, but Alex has enjoyed his time playing for his dad and it has helped grow his love of the game. 
"He was always a lot harder on me than other players, but it pushed me to be a better player. Sometimes it could be hard to listen to him because of the father-son dynamic, but he coached me to be the best player I can be. It has been an honor playing for him, but I am a better player than he was," Alex explained. 
Discipline, sportsmanship, and teamwork are all attributes that Chris hopes to have instilled all of the players he has coached. Despite all of Chris's success in coaching, after ten straight years, he feels as though it is the right time to be done. 
For the past 10 years, the dynamic duo of the BAYFL has been Chris McCartney and Ricky Noonan. They won a youth championship of their own in 1985 and then went on to have one of the most successful runs in BAYFL history. Together, they won 8 championships in 10 years of coaching the West-Antis Packers. 
"
Coaching Alex is one of the greatest things I have had the opportunity to do as a coach.
— Chris McCartney
For a coach so successful, you may be wondering what is next for Chris. He has been asked to coach at some schools locally and eventually may take up some of those offers, but for now, Chris McCartney's Bellwood legacy will live on until he decides to pick up the whistle again.