Linchpins: Mr. Webreck
Many people look at principals and superintendents as the most important people in a school district, but teachers are a big part of students' lives. Agriculture science teacher Mr. Matthew Webreck is no exception.
Mr. Webreck has become a linchpin member of the Bellwood-Antis school community. His students love him, and he has helped many students in the past and will continue to help kids. Part of what makes him appealing as a teacher is his patience, his students say.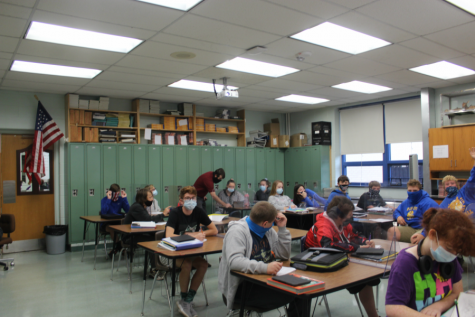 "My favorite thing about Mr. Webreck is if you mess up on something he has an ability to talk over it with you," said Cole Cherry.
Mr. Webreck has been working at Bellwood-Antis for 15 years. When he came to B-A in 2007, he took over for Mr. Mackereth.
Mr. Webreck said the hardest part of his job is "ensuring the growth of learners," and his favorite part of his job is working with the students.
"I keep taking the classes because they are so much fun and I learn something useful," said Cherry, who has taken ag science for four years.
Along with teaching, Mr. Webreck is also the FFA advisor.
One club member, Criscinda Miller, said she takes a lot from Mr. Webreck's teaching style.
"I think that Mr. Webreck is a fun teacher and the way he teaches his lessons is amazing," said Miller.
Ironically, while students recall Mr. Webreck as a fun-loving and humorous teacher, his outward reputation is that of a quiet man.
"Mr. Webreck is a man of few words, but he is a great teacher with a big heart," said Mr. Erin Smith, the high school Spanish teacher.
On a normal day, Mr. Webreck teaches Agricultural Science 1,2,3, and 4, and he also teaches Ag mechanics 1,2,3, and 4. He normally has freshmen in ag mechanics and ag science one, sophomores in ag mechanics and ag science 2, juniors in ag mechanics and ag science 3, and seniors in ag mechanics and ag science 4.
Joey Whiteford, who has been in Mr. Webreck's class for three years said, " Mr. Webreck is relaxed and down to earth."
Dom Daughenbaugh was a little more direct when he declared: "He is the best teacher I have had."