BA Cheer Teams come out on top
On Saturday, January 28, the Bellwood-Antis cheer teams competed at the Battle of the Bows Cheer competition in Tyrone.
The varsity cheer team came in 2nd place, with the difficulty of their routine almost doubling compared to their previous competition in December.
Meanwhile, the junior high team has been doing big things this season, coming out on top in this competition.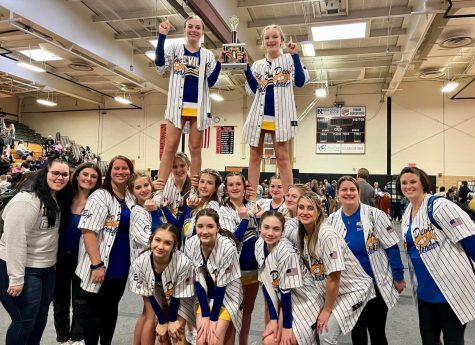 Chrissy Shura, the B-A cheer coach, is proud of how both teams performed this past weekend.
"Varsity has worked really hard over the last few weeks to up their difficulty in their routine, which was a goal of ours, and they accomplished that," Chrissy said. "We are excited to see them get better and gain some confidence."
As for the junior high team, Chrissy sees a bright future for the cheerleaders, believing their success this season is only the beginning.
"Jr high's dedication and hard work is the key to their success and they are always working on making their stunts more difficult for the next competition," she siad.
Congratulations to both cheer teams on their performances this weekend!
The next cheer competition will be held in State College High School, on February 25. Good luck girls!
Leave a Comment