Tadpole farm expanded outside classroom
Mr. David Plummer, a 1st grade teacher at Myers Elementary, is expanding his tadpole farm far beyond his classroom.
Currently, Mr. Plummer's class is learning about the life cycle of a frog, and they have a tank of tadpoles outside their classroom so they can observe their changes and growth.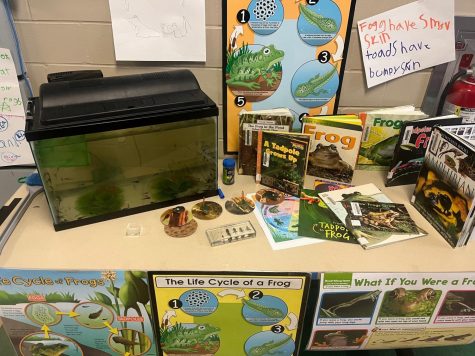 However, the tadpoles have a much larger audience than just Mr. Plummer's class, as they are being livestreamed for parents and community members, giving students access to observe the tadpoles at anytime of day.
Mr. Plummer is known for his love for nature and science and thinks this is a a great way for getting the students excited about science because students learn best by having real-world experiences.
"If I can bring those experiences into the building and spark an interest with our students, I will continue to do so," the 1st grade teacher said.
The link for the tadpoles livestream is located here.
This is not the only livestream Mr. Plummer's class plans on doing, as there are currently chicken eggs waiting to be hatched in the hallway on May 1st. The camera will be moved to the incubator to give viewers a chance to observe the chickens hatching in real time.
Mr. Plummer's class enjoys watching the cycles and growths of the animals, as they can currently observe tadpoles, salamanders, caterpillars, chickens, bees, moths, and other creatures in the science hallway.
Christopher Poorman, a student in Mr. Plummer's class, said that he "loves looking at all the creatures."
Keep an eye out on the livestream to watch tadpoles turn into frogs and for the eggs to turn into chickens!
View Comments(1)