BMOC: Anna Wolfe
Anna Wolfe is known for her amazing skills in softball, whether it's fielding or hitting, but in order for Anna to stay in shape during the off season she does swimming, participating in the co-op with Tyrone's swim team.
She races in the Medley Relay, 50 Freestyle, 100 Freestyle, 200 Freestyle, 200 Free Relay, 400 Free Relay, and even sometimes the 200 IM- all strokes.
Anna is the BluePrint's Big Man on Campus for the month of February.
"I wanted to stay in shape and build muscle for softball. I also wanted a sport to do in the winter," she said.
Anna swims in many different events, which brings the team a lot of flexibility.
"Anna has been swimming for 3 years and is one of the best athletes and hardest workers on the team. She does a great job racing in the pool, regardless of what place she is in…which is huge in swimming since every place, except 6th scores," said swim coach Tom Getz.
Anna said the practices for swimming are physically grueling.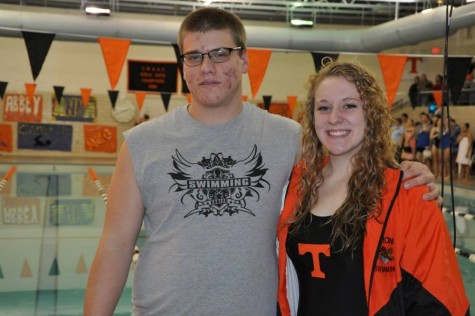 "It depends on the day really, but swimming is definitely the hardest sport I've done because it takes a lot of endurance. District practices are probably the hardest," said Anna.
Anna has a love-hate relationship with swimming, and although she's had success at the sport she says she still enjoys softball more.
"It prepares me for softball by keeping me in shape, and swimming basically works every muscle, so it really strengthens my body overall," she said.
It's hard to deny that swimming has helped Anna's overall game in softball. As a freshman Anna had a .353 batting average, 30 hits, 10 RBIs, and 1 double.
She only got better her sophomore year with a .333 batting average, 16 RBIs and 5 doubles. That led up to her junior year, where she had a whopping .347 batting average, 16 RBIs, 3 doubles, and 1 home run,  making her overall career stats a .345 batting average with 34 RBI's.
Leave a Comment