Athlete of the Week: Sarah Knisley
Cross country is a team and individual sport. Throughout the year you want to push yourself to cross the finish line first so your team has a better chance of winning.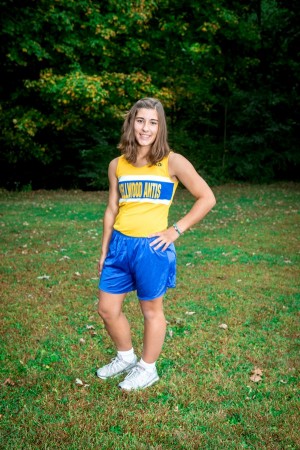 Manning Photography
Such is the life of runner Sarah Knisely.
This week Knisely is the BluePrint's athlete of the week.
Blueprint: How did you get involved with cross country?
Sarah: I did cross country because my brother and I wanted to do a sport together but once he graduated I ended up loving it!
Blueprint: How long have you been a part of the team?
Sarah: This year is my second year.
Blueprint: What do you expect this season for yourself? The team?
Sarah: For the team we just have to push ourselves to the limits and for myself I need to set an example for my teammates and to keep bettering myself throughout the season.
Blueprint: What's your best time?
Sarah: My best time is 25 minutes flat so far.
Blueprint: What would you say to the kids that want to come out for the team but aren't sure?
Sarah: Cross country is a fun and everyone who does it would tell you the same, but you'll only be as good as you want yourself to be.