Pageant life
Alivia Jacobs Is an act of beauty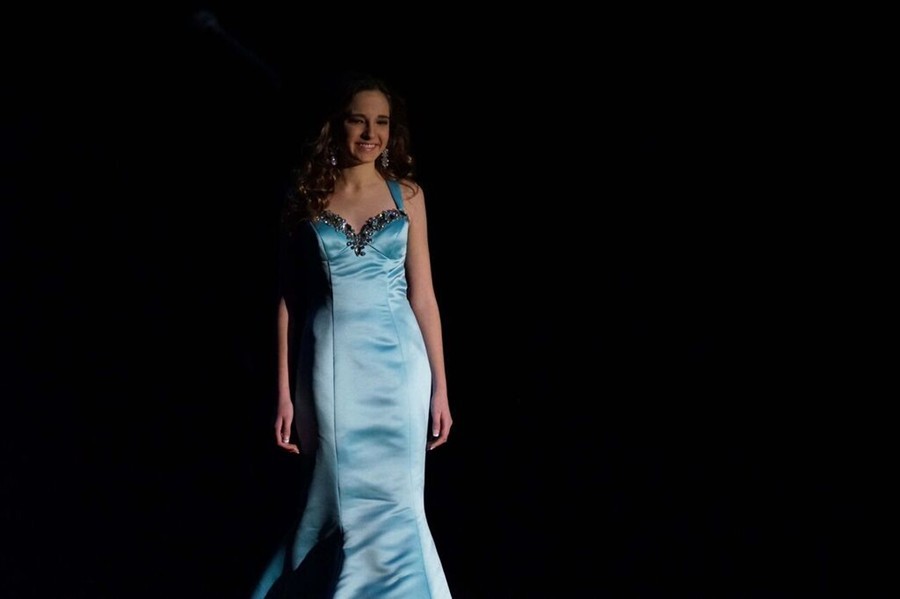 There is no doubt that beauty pageants can be very challenging and difficult to handle. We saw a clear cut example of this in 2007 when a now-famous girl by the name of Caitlin Upton failed to successfully answer a very easy question, "Why can't some U.S. citizens locate the U.S. on a map?"
Upton butchered the question at the Miss Teen USA pageant and became the punchline of a national joke.
Miss Teen USA 2007/YouTube
Even celebrity Steve Harvey recently fell victim to the high pressure of beauty pageants.
Bellwood-Antis freshman Alivia Jacobs can relate to the pressure, but she's never flopped on the scale of Upton.  In fact, she's been quite successful on the scene.
Alivia is a rising competitor in on beauty pageants circuit, so she can tell you firsthand how challenging they can be.
"I feel there's a lot of pressure on me, probably because I have to be perfect every competition," Alivia said.
There is also a lot of room for personal growth. Alivia prepares for competitions by reading over her fact and platform sheets to avoid being nervous during the competition.
"
I love competing in pageants. The interview skills and confidence I've gained is immeasurable."
— Alivia Jacobs
"I love competing. The interview skills and confidence I've gained is immeasurable," she said.
Not only does she enjoy pageants, but she's pretty good at it, too.  Alivia has many titles from competitions, but she also has won hundreds of dollars in college scholarships.
"They learn success is not all about the money they make, but what they accomplish after the year of service they give to the system through their platform, and where they go after that," said Alivia's mother and coach Lisa Jacobs.
Every contestant in a pageant needs a platform, which is a group or a cause that you represent at your competition and that you spend time campaigning for. Alivia stands with Paws With a Cause, helping the Central Pennsylvania Humane Society, which really means a lot to her.
"If I wasn't in pageants I would still be involved with Paws for a Cause," Alivia stated.
"I love that my daughter competes because it has given her the confidence to be able to not only talk with people of her age, but to interact with adults as well," said Mrs. Jacobs.
It's been a long road for Alivia since her first pageant. Her cousin Alycia McCullough, who was the first runner-up for Miss Pennsylvania two years in a row, is the one who got her interested in the scene.
"Alivia has been competing since the age of seven," said Lisa. "The first pageant we did … we were so unprepared it was not funny. She has come a long way."
She competes in competitions such as Cinderella Org., Miss PA international, and Miss America Outstanding Teen, and plans on competing until she wins either Miss Pennsylvania or Miss America, or she ages out of the competitions.  The age range is 13-18.
On the weekend after New Year's Alivia will be heading over to Harrisburg for the Mid-State competition. She will be going over and practicing her song, "I Enjoy Being a Girl," quite frequently to prepare for her talent proportion of the pageant.
She will also be brushing up on her interview skills in preparation for the part of the pageant she says is the toughest.
"
If it comes to a point where she says 'no more,' then we won't do it."
— Lisa Jacobs
"The interviews make me nervous, but I love all the other parts," said Alivia.
She isn't the only one who gets nervous. Mrs. Jacobs said it's nerve-wracking because of the stress of making sure Alivia has everything she needs. "I have to make sure that when she walks out on stage her outfits are all pressed and she looks amazing," said Mrs. Jacobs.
Alivia's mom is also responsible for the costs of clothing and travel.
"The dresses can be expensive. I know a girl who spent $2,500 on a single dress," said Alivia. "The entry fee is not that bad, but once you win the prelim they wave the fee."
"The expense can sometimes be a little overwhelming," Lisa said. "I try to purchase gowns that are on sale by going to different pageant websites. Also, since these pageants are held in the Pittsburgh and Harrisburg area we try to stay with family rather than a hotel."
Lisa said she loves being a part of her daughter's pageant experience, but that it has to be her daughter's commitment.
"To watch her up on stage is the most amazing thing," she said. "But it has to be her decision, and if it comes to a point where she says 'no more,' then we won't do it."