Leo Club hosts annual skit night
On Wednesday, September 27, the 2017 Homecoming court held its annual Skit Night in the Bellwood-Antis Middle School gymnasium.
Skit night is an event where the Homecoming court gets to let loose and have fun by coming up with a skit of their own and preforming it with their own team in front of an audience.  It's a way for the girls and their teams to get in front of the community and let their creative sides shine.
Ali Dumun started off skit night with her skit, which had a theme of the newest horror movie IT. Ali's escort, Max DeArmitt, played the role of Pennywise the clown.
"
Everyone had fun, and that's what it's all about.
— Rachel Wertz
Ali's skit was followed up by Rachel Wertz, whose skit had a Napoleon Dynamite theme.
Rachel says that she really enjoyed her time preparing for and acting out her skit.
"I think skit night went really well. Everyone had fun, and that's what it's all about. We were all just laughing together. Everyone's skit was really good and everyone did a great job!" said Rachel.
Shalya Branstetter went with a boxing theme, going one on one with her friend Emily Leidig.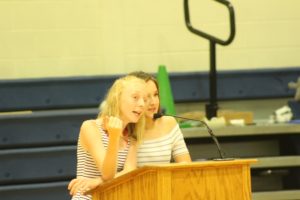 Following Shalya was Kamryn Mercer. Because she has a passion for volleyball, it's only natural that her skit would revolve around her favorite sport. She even incorporated some of the volleyball team in her skit.
Sidney Patterson took a spin on the old television game show the Dating Game, which had a girl choose between three different men based on given facts about them. Jack Showalter played the role of the game show host.
Closing off the skits portion of the night was Alexis Gerwert, who went with the hilarious idea of making the boys work to earn the right of being her escort. Each boy had to do gymnastics, and whichever one won would be the worthy escort of Alexis herself.
Jenna Bartlett, a Leo club officer, said that she feels Skit Night went really well.
"It went down smoothly. The skits were well planned out," said Jenna.
After the actual skits came the makeovers. The female court members were blindfolded and made to put makeup on their escorts. Not only was it funny, but everyone had a lot of fun in the process.
The night ended with gym relay races. The girls and their escorts wheeled themselves from one end of the gym to the other in a competition to see who could get from one side to the other the fastest.
While skit night was fun, Aliva Jacobs, who is a Leo club officer, said it took a lot of hard work to bring this event together.
"There was a lot of planning, and it was an all-year thing. We started the first day of school with Homecoming plans," said Aliva.
The Homecoming queen will be announced on Friday, September 29, at halftime during the Blue Devil vs Williamsburg game at Blue Devil Stadium.