Pulcinello Family Appreciates B-A Program
Frank Sr. Discusses the Experiences of Son, Frankie Jr.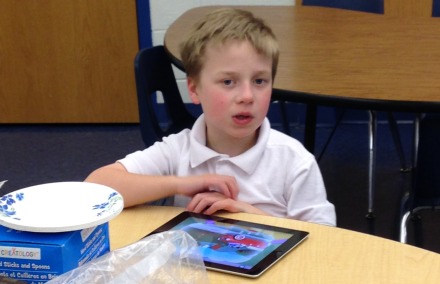 Like millions of others across the world Frank Pulcinello Jr, or Frankie as he is known to friends and family, has autism.
Nine-year old Frankie is a third grader at Myers Elementary school, participating in the verbal behavior program in the Autistic/Multi-disabilities Support Room.
Frankie's parents—Frank Sr. and Rebekah—first learned that he had autism about six months after his birth.  This wasn't a problem for his parents, but they knew that they would have their work cut out for them. Frank Sr. said it was going to be a must for them to get Frankie into physical and occupational therapy; speech therapy didn't come as a shock to them as they knew around nine months from his diagnosis that there were services that he was going to need.
Frank Sr. said that if Frankie hadn't been diagnosed with autism then services may not have been provided or available.
As is true with many children with autism there are difficulties and risks involved for the Pulcinello family, but it doesn't make it any less rewarding. One of the biggest concerns with Frankie is that he doesn't worry about danger like he should; he worries most about things like dogs running around because of his fear of dogs, Frank Sr. said.
According to his father he doesn't recognize the danger that comes along with water because he will go near and step into it no matter how deep it is. He seeks out water because he likes it.
"One day when I was at my father's house," Frank Sr. said, "I turned my back and he was just gone. We were looking in the backyard and in all his favorite little hiding places. We looked at the stream behind our house and then I started calling neighbors to help me look before I called the state police. Eventually one of my neighbors found him at the Bellwood pool area in the stream."
Another difficulty is the tantrums he throws. He will kick, bite, scratch, and punch.
"He's still on the tiny side so it's not that big of a deal yet," remarked Frank Sr. "However one time he nearly bit my ear completely off. It wasn't his fault. He was just frustrated I had asked him to pick something up. He latched on and my first instinct was to pull away, and it ripped."
Raising a child with autism is like a two-sided coin, on one side there are the difficulties and on the other side are the perks but it's still rewarding in the end. As for the perks, it's a whole different world.  "It's not him conforming to our world," Pulcinello remarked, "We have to conform to his world." The Pulcinello's have a daughter, as well, who isn't autistic. They enjoy the perks of raising her as well but it's completely different with Frankie. "You get a different respect for how others are raised. It's very fascinating to see into his world to see the things he likes and the things he likes to do."
Myers Elementary School has a Verbal Behavior program as part of its Autistic/Multi-disabilities Support Room, and that has helped Frankie and students like him. It's really helped him academically, Frank Sr. said.
With the help of teacher Christina Zimmerman and the support staff he can now spell his own name. "I always felt that he could do that," Pulcinello added. "But he can actually spell it out. He spells 'F-R-A-N-K-I-E' when he spells it."
Zimmerman and the aides have begun to teach him some sign language.
But one of the most important things for Frankie to leave school with is social skills. Frank Sr. said one of his son's greatest achievements came when he recently had his birthday party and a couple of his classmates came to the party and he responded to them.
As for Frankie's future education, Frank hopes he will learn some life skills. "He probably will never be able to live on his own where he doesn't need someone to help him. I'd love to see him be able to make some food, do a sort of repetitive job like working in a restaurant like cleaning down tables or stocking silver wear," Pulcinello said. He added that this will be way down the line. He hopes that he would be able to something for his future where he could live somewhat independently. Frank Sr. believes Frankie will probably live with he and his wife, but hopes he will be able to do some of the things that many people take for granted.
There's always room for improvement. While Puclinello is very impressed with the work that Myers has done, he thinks there are a few things Myers could do to help some more. He said music really helps students with autism. Frankie has a music therapist outside of school that helps incorporate music into his life. "It's fascinating to watch him playing music and talk at the same time.  Some of the best words and phrases he has said are during his music therapy. I personally think incorporating music therapy into the program or even have seniors that are into music somehow help with the program (would be a great idea)" Frank Sr. said."
Frank Sr. offers some advice for parents with children who have autism. If they're just finding out that their child is autistic or they have suspicions  he says they need to find out. Ask a doctor and get an evaluation and get them into therapy. Frank Sr. suggested they may need Speech Therapy, Occupational Therapy, and Physical Therapy. He said you need to get your child into whatever is available. With early intervention programs, from birth to three years, you can have a therapist come into your home with your child. He'd recommend just asking questions.
Get support from others who are going through it and others in your community because it's not an easy thing to do. Frank Sr. added, "I've recently seen something on Facebook and it said that 'if you can't donate any money to autism awareness then help out a care giver.' It takes a toll on them sometimes. They also need to take care of themselves as a parent."
He advises anyone who doesn't know much about autism to visit autismspeaks.org.  There is a lot of great information about autism on the website and he highly recommends looking into it.
Leave a Comment