Myers students hit the airwaves
Myers Morning News features third grade broadcasters
This just in! Students at Myers are on their way to careers as TV news anchors.
Recently, Myers students thought up an idea to improve the school community and get information out to staff and students. They wanted to do a news cast that parents and family could see and know what's going on in the community and school.
"
We started doing this as a way to build community in our school."
— Mrs. Bouslough
Two students volunteer and and then anchors rotate from the classrooms so that each child has a chance to participate.
The third graders videos are uploaded on a new Facebook page called Myers Morning News where peoplewho have liked the page can watch the news from home. The video is also emailed the Myers Elementary staff.
Some of the information on the news cast that you could find are lunch of the day and birthdays. Students doing the broadcast get the option to pick a random did you know fact, a calendar fact (talk like a pirate day), a joke of the day, 15 second dance break.
Third grade teacher Mrs. Bouslough said one of the biggest thing she wants the kids to get out of the Myers Morning News is learning how to practice reading fluency, but she can't deny that it's a lot of fun, too.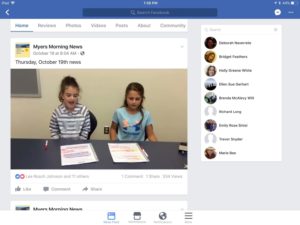 "We started doing this as a way to build community in our school so other classes could watch this and get information about what's going on, and it's a fun way to start your morning," said Mrs. Bouslough.
One of the third graders favorite things about being filmed on the newscast is watching from home because they feel famous.
"One of my favorite things about watching the news cast is listening to the jokes or the dance break," said Julie Kraft.
Others like the structure of the broadcasts.
"The greeting is my favorite part of the announcements," said Bryson Hescox.
The broadcast is uploaded every morning by 9 a.m.